About Minel
My first toenail came off after the Los Angeles Marathon in 2004.  I didn't realize (at that time) that my right big toenail was about to fall off.  A few days later, the nail was hanging for dear life… so I pulled it out.  My right big toe was actually relieved that the dead toenail was gone, and a new one can grow again.  Then I had this idea to memorialize my running adventures, and started this running blog, named it, www.missingtoenails.com.
How I Got Into Running (and triathlons)
I'm a CPA (Certified Public Accountant), and in the earlier years of my career working at a CPA firm, my de-stressor was running.  Running for me started with a boy (or ex-boy, now).  I wasn't much of an athlete growing up. I never ran, nor participated in any sports in grade school, high school or even college. In my late twenties, after I broke up with my then-boyfriend, I took up running.  I worked many hours as an accountant at the firm, so I carved out a few hours of the day or night, for a few short runs.  My friends and family supported me with running races, at least when I was doing 5k and 10k runs. When I started running marathons (lots of them), they thought I was crazy*… until I got them involved in it! Now, we all run the same races (most of them anyway), together.  In 2012, I got into ultra-running, and learned that it's okay to fail sometimes, then bounce back and be successful the next time.  I strive to be a resilient runner.  I also learned that ultra-running is different from road racing, in a much better way.  I have met many wonderful people who are super humble and the nicest people ever.  The ultra-running community is a different kind of culture, it's a lifestyle.  Finally, I joined a triathlon club (Silicon Valley Triathlon Club in the Bay Area, CA) for the 'run' portion and to do cross-training.  But then I got into triathlons as well, doing various sprints/ olympic triathlons, and 3 half-Ironman (70.3) distances; that's the farthest I will go for a triathlon, I don't quite like the biking part.
UPDATE November 25th 2022: I should stop setting limits on my racing journey. After completing four half-distance triathlons and attempting my first full distance this year, I'm committed to keep going the distance. With my new team, Team RadioActive, I've found not just training partners but close friends who inspire me to push my limits.
If you have completed a marathon (or ultra-marathon) you might have sacrificed a toenail or two – if not, you're one lucky person! Sure, it's a bit gross, but don't worry; they grow back. And when they do, it's like a never-ending cycle. I take pleasure in flashing my toenail-less toes at my sisters, much to their dismay. It's incredible how our bodies bounce back, and I wanted to share that marvel with them. Just as dead toenails fall off, and new ones sprout, I recover, grow, and gain wisdom from unfinished races, rough training runs, or even the ones that went very well (there's always room for improvement). In this blog, I hope to keep these experiences alive, and if I can nudge someone toward embracing an active lifestyle, even better. That's when I know I've made an impact in their lives.
Take care and keep on running,  Happy trails!
– Minel
*If this story seemed familiar, you have probably read about me on Women's Running magazine ("Women Who Move" feature), January/February 2009 issue #30. See the hardcopy scanned below!
p.s.
Here's the scan of my "interview" on Women Who Move. Click the image for a larger version!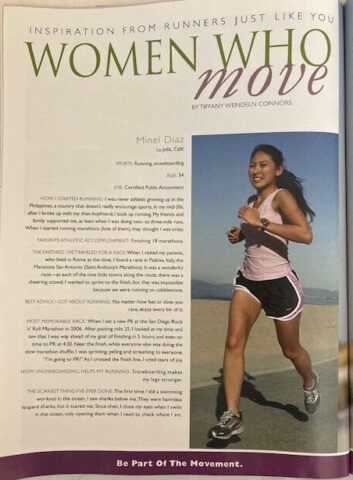 Professionally Speaking: 
When I am not running, swimming or biking, I currently work for a software company helping the organization achieve operational excellence and maintain a good financial, operational, and compliance health.