About Minel
My first toenail came off after the Los Angeles Marathon in 2004.  I didn't realize (at that time) that my right big toenail was about to fall off.  A few days later, the nail was hanging for dear life… so I pulled it out.  My right big toe was actually relieved that the dead toenail was gone, and a new one can grow again.  Then I had this idea to memorialize my running adventures, and started this running blog, named it, www.missingtoenails.com.
How I Got Into Running (and triathlons)
I'm a CPA (Certified Public Accountant), and in the earlier years of my career working at a CPA firm, my de-stressor was running.  Running for me started with a boy (or ex-boy, now).  I wasn't much of an athlete growing up. I never ran, nor participated in any sports in grade school, high school or even college. In my late twenties, after I broke up with my then-boyfriend, I took up running.  I worked many hours as an accountant at the firm, so I carved out a few hours of the day or night, for a few short runs.  My friends and family supported me with running races, at least when I was doing 5k and 10k runs. When I started running marathons (lots of them), they thought I was crazy*… until I got them involved in it! Now, we all run the same races (most of them anyway), together.  In 2012, I got into ultra-running, and learned that it's okay to fail sometimes, then bounce back and be successful the next time.  I strive to be a resilient runner.  I also learned that ultra-running is different from road racing, in a much better way.  I have met many wonderful people who are super humble and the nicest people ever.  The ultra-running community is a different kind of culture, it's a lifestyle.  Finally, I joined a triathlon club (Silicon Valley Triathlon Club in the Bay Area, CA) for the 'run' portion and to do cross-training.  But then I got into triathlons as well, doing various sprints/ olympic triathlons, and 3 half-Ironman (70.3) distances; that's the farthest I will go for a triathlon, I don't quite like the biking part.
UPDATE November 25th 2022:  I should stop saying the farthest I will go, I will eat my words.  I have done 4 half-distance triathlon and attempted my first full distance, read here.  I will do another full distance, to finish some business, and finish that race. I also have a new team, Team RadioActive, whom I appreciate throughout my training, and have called a few of them my close friends.
If you have completed a marathon (or ultra-marathon), you might have lost a toenail (or two) afterwards – if you haven't, you're lucky!  It's gross, I know, but they grow back.  And when they do, the process repeats itself.  I like to show off my missing toenails to my sisters, much to their dismay.  It's just wonderful how our bodies recuperate, and I wanted to share that amazement with them.  Just like the dead toenail falling off, and a new one growing, I recover, grow and learn from the races I do not finish, or training runs that do not go well, or even those races that went well (there are always things I can learn).  In this blog, I hope to keep the memories of my experiences alive.  If I can even inspire another person to live the active lifestyle, then even better. I have made an impact in their lives.
Take care and keep on running,  Happy trails!
– Minel
*If this story seemed familiar, you have probably read about me on Women's Running magazine ("Women Who Move" feature), January/February 2009 issue #30. See the hardcopy scanned below!
p.s.
Here's the scan of my "interview" on Women Who Move. Click the image for a larger version!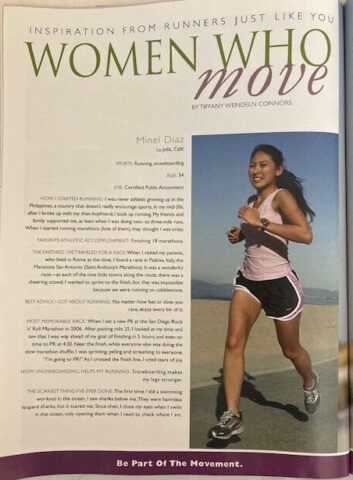 Professionally Speaking: 
When I am not running, swimming or biking, I currently work for a software company helping the organization achieve operational excellence and maintain a good financial, operational, and compliance health.