Texas Trail Running Festival was held on June 4-6, in Krause Springs (a private property open to the public), in Spicewood, TX. This was a fun race, with live music from a band at the start/finish line area. The course is ~6.7 mile loop (modified for the 5k/10k) and had distances from 5k to a marathon. Tejas Trails allow for staggered start times, so participants choose the day/time they would like to start their race, provided they finish during that day's cutoff time. The course is runnable, with a few challenging terrain and hills.  I did the marathon on Saturday June 5th at 8:00 AM. I finished at a decent time, but was hoping to have finished in 6 hours, compared to my previous trail marathon finish times in CA, which had more elevation gain than this race.
Getting to the start line:
There was a little drama that morning before I even got to the start line. Andy missed his flight to San Diego the day before (Friday) because of long security lines (3 hours wait time), so his new flight was Saturday, the morning of my race. After many arguments and debating the night before, we decided that I take him to the airport at 4:30 AM, then I go to my race. I went back home after dropping him off, I let the dogs out since I will be out all day and wouldn't be fair to leave them without doing their business. I finally left home (the second time) and got to the race site (~1 hour drive) at 7:45 AM, enough time to get my bib and get settled.
The race:
It was already humid at the start, temps were probably 75F. I set up my drop bag at the start/finish area. One would think doing a marathon I wouldn't need a drop bag; but since the marathon is 4 loops returning to the start each time, I can run light and not carry a big pack with all my nutrition. The goal was to complete each loop in 1 hour and 30 minutes.
Loop 1 – I felt great and ran most of the way, with slow jogging up the hills and through the boulders. I may have had a lot of energy from the two cups of coffee I drank before getting here. I completed loop 1 in 1 hour 12 minutes, and then I thought, that was too fast.
Loop 2 – I started out feeling great. I was still running, albeit slower than in loop 1. One man recognized me and yelled, 'Hey it's you, Toenails, I met you at Bandera, it's Tall Guy.' I do remember speaking to them during Bandera 50k in January. The reference to Toenails is my blog, I posted it on Tejas Trails Facebook group page, and he recognized me. As I kept moving through this loop, towards the end, I was starting to feel a little tired; but kept moving since I was close to the end. I thought, maybe I could take a 5-minute nap when I get back to the start/finish aid station. There was a lot of energy at the start/finish, with a band playing live music. After replenishing my nutrition, I continued to do loop #3.
Loop 3 – I pulled out my camera, to keep me entertained while I jogged this loop. I met one lady, Carly, who was doing her first trail marathon, and second marathon ever. Her first marathon was Austin Marathon. I chatted with her for a bit, but if I stayed with her then I wouldn't finish in my goal time. I was already falling behind. During this loop I was on my own for a while. Waking up at 4AM, with about 6 hours of sleep, I am getting sleepy by this time. However, I thought to myself, this could be like ultra-training — running while sleep-deprived.  I walked a lot more than I would have wanted to, but it was okay because I didn't want to trip on the large rocks. A lot of the flat areas looked the same to me. I wasn't sure which part of the course I was at, but provided I followed the course flags, then I wouldn't get lost. When I saw someone coming right at me, I asked him if he was going the wrong way. He was not; we were at the added section for the half and full, which had a fork; I was coming out and he was about to do the section. I apologized; he said he did that earlier as well. I wasn't the only one.
Loop 4 – I got in and out of that aid station quickly. At that point I had 20 miles done and 5 hours 15 minutes total time thus far. I thought, if I could at least do this last loop in less than 2 hours then I should be fine. At my rush getting out, I forgot to pick up a Spring Energy for food. I felt that lack of nutrition during this loop. There was a lot of walking. I caught up to this man, I didn't catch his name, he spoke with an English accent. I passed him. But then when I started walking, (he walked fast), I let him pass me. I tried to follow him, chatted with him a bit, we were both on our last loop. However, he started one hour before I did. He started saying, 'this is your victory lap, keep it going!' I still followed walking behind him, we were in the technical rocky and boulders area. He talked as we walked, and I followed. When we got to the open space, he told me to go get it. So I did. I jogged and passed him. About 2 miles to the finish, I ran out of liquids. Walking again, this man caught up to me… again. The last aid station was about 1 mile to the finish, I picked up a water bottle, chugged down some water, then went off. Since it was flat, I jogged. The man followed me. I yelled out, 'let's do this!' There was one last short uphill before the finish. I powered up that hill, then ran to the finish.
I was starving when I finished.  Because we are still somewhat in a pandemic, COVID-19, there were not a lot of food at the finish line and the festivities were winding down a little bit.  It's a good thing there was a burger food truck on premise.  I bought an $8.50 cheeseburger and a potato salad.  After eating, it was time to take on the 1-hour drive home.
Lessons Learned:
I had a few learnings from this race:
1) Don't take any race for granted, and prepare beforehand, if possible (i.e., no airport trips before a race).
2) Always keep nutrition in your pack (not like when I forgot my Spring Energy on loop 4).
3) Don't underestimate the heat and humidity (when I ran out of Tailwind on the last loop, I should've known to bring an extra bottle since it was getting hotter later in the day).
I ran this marathon as a training run, to get some mileage, as I prepare to pace a couple of friends at a couple of races this summer. In July, I'm pacing 20-30 miles (not sure yet) of a friend's 100-mile race in Lake Tahoe. In August, I'm pacing ~20 miles of another friend's 200-mile run/hike, in the Pacific Northwest. These pacing gigs are my way of escaping the summer heat in Texas. I still need to be prepared.
Before I end this narrative, one last thing to mention… I finished second in my Age Group.  However, there are only awards for Overall Finishers.

The photos:
At the start line, getting ready to go!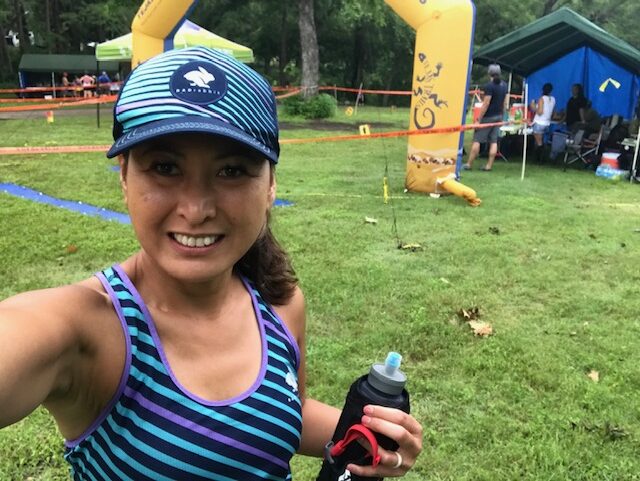 My drop bag – not too many out there, but there are some.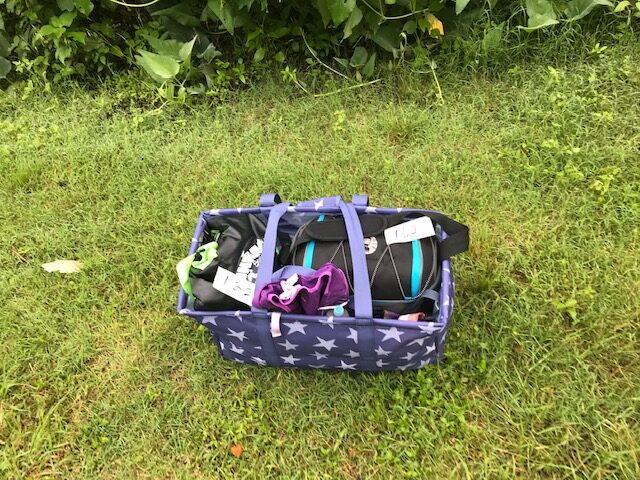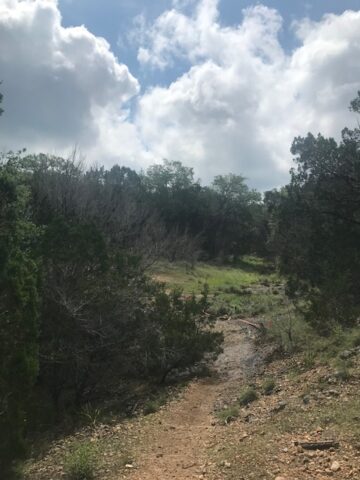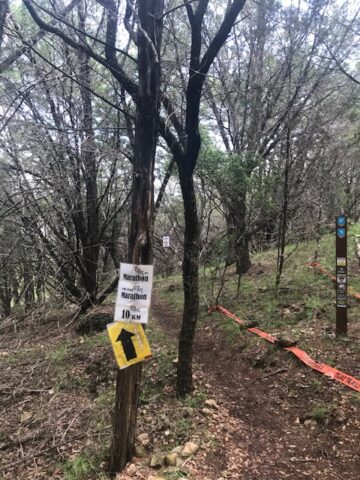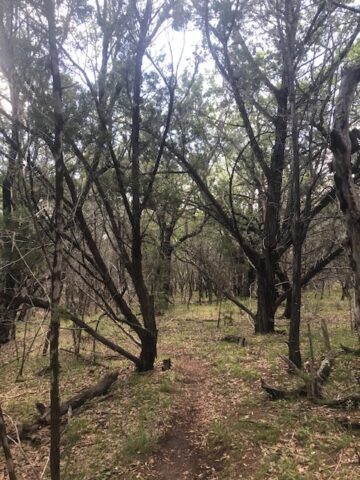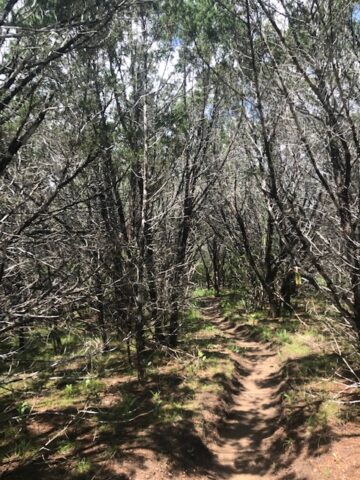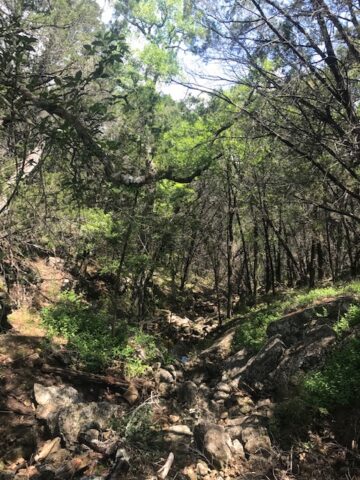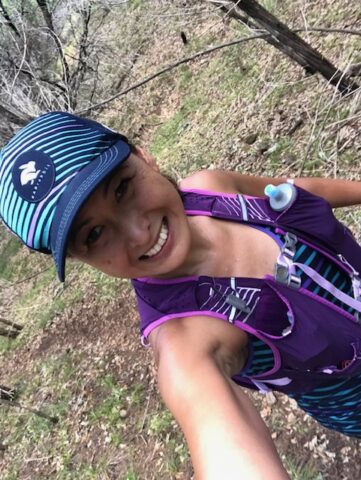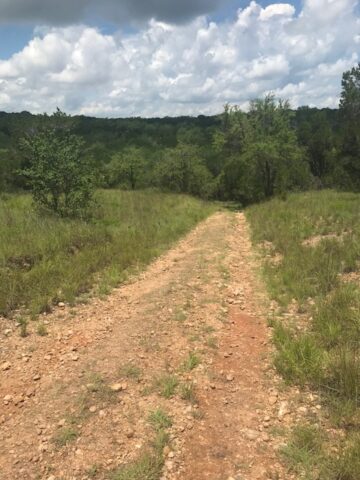 Strava was too generous, it didn't count my stopping times.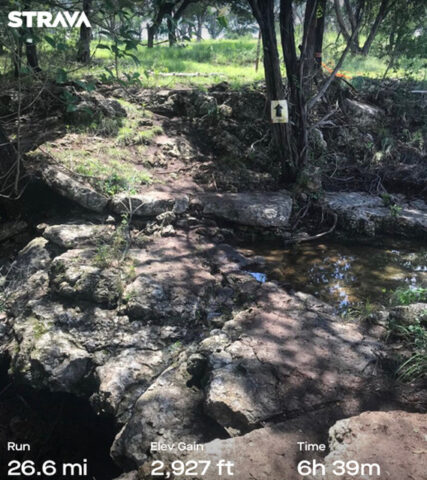 Race swag: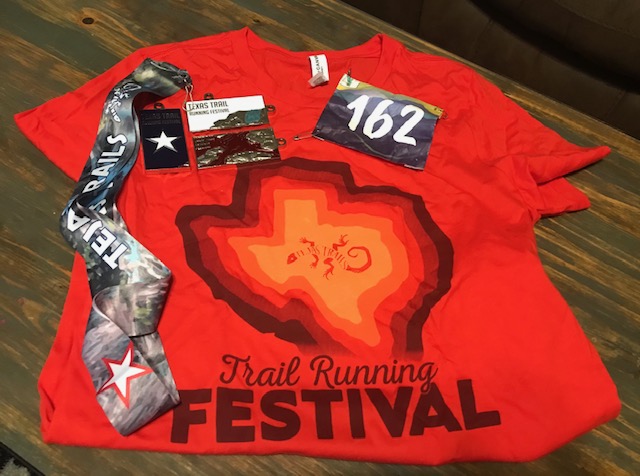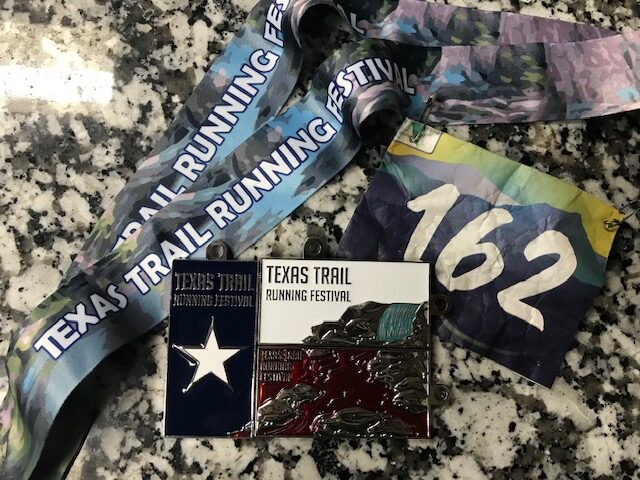 Got home, then poured me a celebratory glass of wine.