I had my first experience of a shooting competition this weekend, a different athletic event than my usual running and triathlon.  I'm very impressed with the caliber/skills, and the diversity in age of the women in this event.  This annual event, Women's Clay Extravaganza, is organized by A Girl and A Gun, a women's shooting league with chapters all over the U.S. (except Oregon for now).  I entered 3 events: Trap, Sporting Clay (blue course), and 5-stand.  I have done trap shooting for a couple of years while living in the Bay Area, but this was my first time with sporting clay and 5-stand.  Overall, I placed towards back of the pack; my standings:  Sporting Clay – 68 of 81; 5-Stand – 56 of 71; Trap – 21 of 60 (this is my stronger event as I've done it in the past).
No matter the standing, I had loads of fun shooting my shotgun and breaking clays, and spending quality time with the women in my local chapter, as well as meeting other women shooters.
While I may not be missing a toenail or so with clay shooting (I hope not!), it is another athletic even I would like to memorialize here in my blog site.  I will be doing this again next year, so I need to remember what to do/ not to do.
How it started
My husband and I found a shooting range near our house, as we explored our new hometown and home state.  We moved to TX in the past year, and since then had experienced a better quality of life, meeting new and friendly people in this state.  One day in December 2020, at the range, I saw a flyer for 'Girls Night Out' (GNO) it was a private shooting event for women only.  I inquired and attended one night.  That was where I found A Girl and A Gun (AGAG), a women's shooting league that helps women and girls learn how to shoot and feel more comfortable with handling firearms.  At least once a month I attended a GNO, and met our local chapter leaders and other women in the club.  Fast forward to around June 2021, when we all started looking into this women-only clay shooting match organized by AGAG.  I loved shooting trap, which is what I did back in the Bay Area, with my husband.  The ladies and I practiced more clay shooting at another local range, then I decided I would enter this Women's Clay Extravaganza.  I have never entered any shooting competition in the past, so this was a first good event for me since I am more familiar with, and love, shooting my over/under shotgun.
Background about Trap, Sporting Clay, and 5-Stand
Trap is shooting from 5 different positions, while the clay birds fly out of the trap house.  Sporting Clay is like golf with guns – the course may feature 13 stations and clay birds/rabbits may fly out from the clay thrower from different directions.  5-stand is, well, if you put all clay shooting in a blender, you will get 5-stand.  For more info about the different disciplines, visit this website as explains it best.
The event
This event was held at Powder Creek Shooting Park in Lenexa, KS.  They had a beautiful property in the woods, with several trap fields, 2 5-stand courses, and a couple of sporting clay courses.  It was held on Aug 27-28, and a clinic on Thursday Aug 26.  The matches featured 3 events: trap, sporting clay, and 5-stand.  There were a total of 85 women and girls who participated in one or all of the events.  There were many sponsors at the event, one of them being CZ-USA, demonstrating their varying shotguns.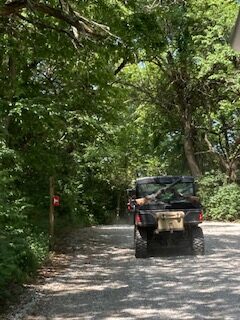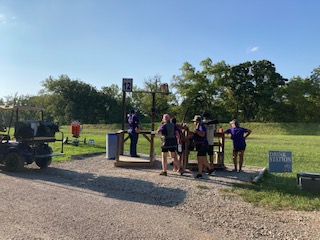 I took the clinic on Thursday, where we had our instructor, Craig McMichael, teach us safety, gun fit, hold/focus/break point, chokes, and quartering/corner – questions we had in our pre-filled form prior to the clinic.  We then proceeded to the sporting clay course and stopped at a few stations, where we each shot one at a time and given feedback by Craig on our shots.  We were given some strategies and techniques as well, and each of us in our class improved by being able to see our mistakes and correct them.  This game, like any other sport, requires repetition and practice.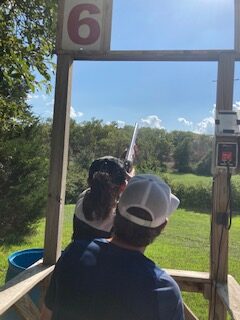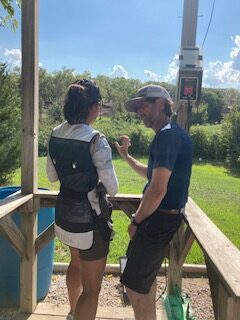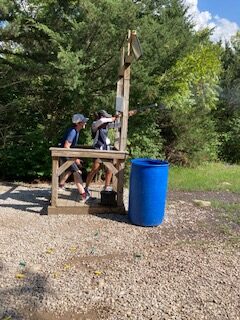 My schedule of events started with trap shooting on Friday morning at 9 AM.  I was very anxious and nervous right before my match, that I couldn't put my over/under shotgun together.  I have done it several times, and can quickly put it together, but that morning I was just very nervous.  I think because it was a mix of excitement and nervousness.  In my squad, there was one lady from San Diego, a 12 yr old who is good and has hopes of going to the Olympics (Kayli DeVusser), an editor at Lady Shooter Lifestyles magazine (Natalia Gonzales), and my one other friend, Tammy, from my same AGAG chapter.  We had 2 rounds of 25, and took a short 10 minute break in between rounds.  I scored 19 out of 25 on the first round, then 16 out of 25 on the second round, for a total of 35 out of 50.
In the afternoon around 3 pm, I had my sporting clay blue course event.  Tammy and I were on the same squad with two other ladies from Arkansas.  They have been shooting sporting clay for the last 5 years with their husbands, and have been competing at tournaments around the country.  They are the experts in the game, at least in our squad, so I asked them a lot of questions, and listened to their advice.  They were good shooters, but they can also miss.  I had some good shots in sporting clay according to the two ladies.  I was starting to enjoy this game.  We drove our golf cart from one station to another.  However, it was a very long game.  I didn't have enough snacks and drinks with me, and I was running low in energy.  This is where I thought, I should be hydrating and eating just the same as when I do during my long runs.  The game of sporting clay may vary in time length depending on the players – we took 2.5 hours to complete the course.
The next day, Saturday, I had my last event: 5-stand.  I have never done 5-stand, but I watched it the day before and already know I will be having the most difficult time with this event.  It was fast.  It was confusing.  One should know and memorize the birds' flights, or rabbits' bounce.  I lost / missed a lot of birds, but it was still a good and humbling experience.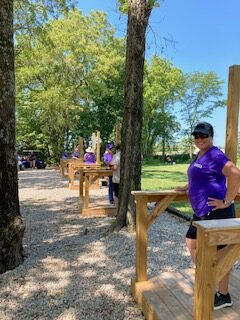 In the afternoon, when all the games are over (except for one last team member who had her trap match later in the afternoon), most of us shot flurrys.  How it works:  there are 5 clay throwers and 5 players.  There will be clays thrown all over the place up high and all 5 players will start shooting as much clays as possible until the clays are all thrown out.  That was a lot of fun, I was laughing and enjoying blasting away without worrying about scores.  While shooting flurrys a couple of women complimented my kea peak visor.  After we did flurrys we cheered on our last team member on her trap game.
Closing activities
Each participant came home with a prize, courtesy of our many sponsors.  I received a gift certificate from www.gungoddess.com, good for any merchandise they sell online.  Before the day was over, a closing awards ceremony was held, where the top winners and overall winner were announced.  None of the ladies from my chapter did not win, but for us it was about doing our best, since this is new to most of us.  We all can just get better from here onwards.  Repetition and practice are needed in any type of sporting event.
There were many women and volunteers at this event, providing encouragement and help/coaching, particularly for me when I make my shots.  I am pleasantly surprised to have seen women and girls who are good at this sport, competing with others, competing with their personal best, and still being supportive of every other participant in the matches.  It made this weekend a very pleasant and enjoyable experience.  Till the next clay competition… I will strive to do better than my current standing.