In all my years of running – road racing, trails, and ultras – I have never ran a Ragnar Relay race… till now. My team ran Ragnar Relays TX trail edition, in Comfort, TX this past weekend.  This is when I truly saw that running is not always an individual sport. Our team pushed hard together and had loads of fun along the way. The joys, the pain, the suffering, and even some wine-drinking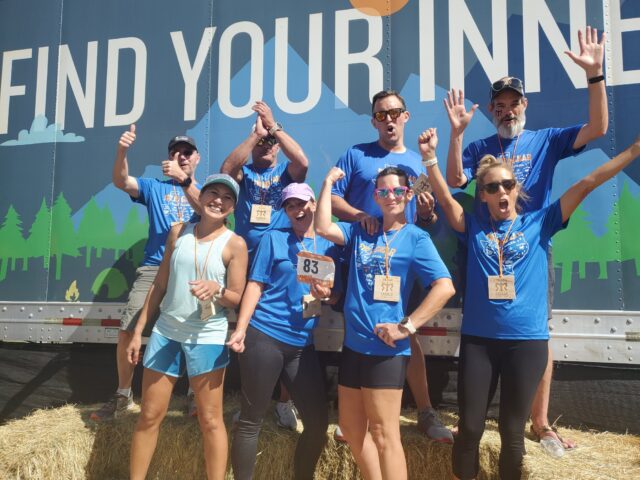 Our team captains, husband and wife duo Andrea Jeanne and Larry, did a wonderful job leading the rest of the team members (total of 8 individuals), who are mostly virgin Ragnarians, get through this weekend of camping, running, and enjoying the race party.  The race started on Friday Oct 15, with teams starting at various different times and ended Saturday around 4-ish PM.  We camped on the grounds near the start line, as each runner waited / rested till it is their time to run.  There are 3 different routes: a 3, 5, and 7 miler.  We each had to do the 3 loops during different times of the day/ night.  Larry estimated our start times for each person, based on an estimated pace, which we adjusted during the race as people came back to our home base from their run. 
The weather could not be any better.  While Friday was slightly warmer and humid, the rest of the weekend was nice and cool for running.  The temperatures dropped during the night, probably at 50s; and in the woods sleeping in tents, this felt really cold.  We had a great camp site, with trees surrounding us.  The only drawback was, nearby there was a tent with, most likely a man who snored all night… like a busted chainsaw.  Even with my noise cancelation headset, I could hear that person snoring.  Camping in the woods was also a fairly new experience for me, sleeping on a hard uncomfortable cot inside a cold claustrophobic tent.  I never go camping, never done it when we were young kids.  I did it once before as an adult, when my tri club did a training weekend for Vineman 70.3 triathlon.  I had no equipment back then but my friends loaned me sleeping bag and gears, and allowed me to stay with them in their tent.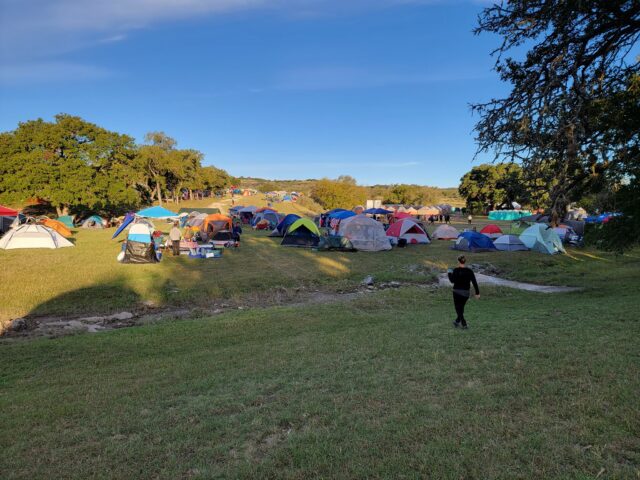 I personally had a tough start to the weekend, having pulled my back that Friday morning (doing something stupid), and trying to rehab it before my first run at 6:30 Friday evening.  Our other team members helped me stretch it out and use the Theragun massager to help loosen and relax whatever it was that was causing pain.  I could barely walk, well, walking with a bent back like an old granny.  I tried to straighten my back, but it hurt.  I tried to suppress the pain by thinking happy thoughts, it worked some times.  In some cases I would get a shooting pain, probably muscle spasms.  When I ran my 5-miler, my first leg, I did it slowly.  It was a fun course, I would have ran more if it weren't for my back pain.  I didn't want to aggravate the 'injury' so I took it easy.  After the 5 miler, my back felt slightly better; it felt like the run helped loosen it up a bit, or make me more relaxed.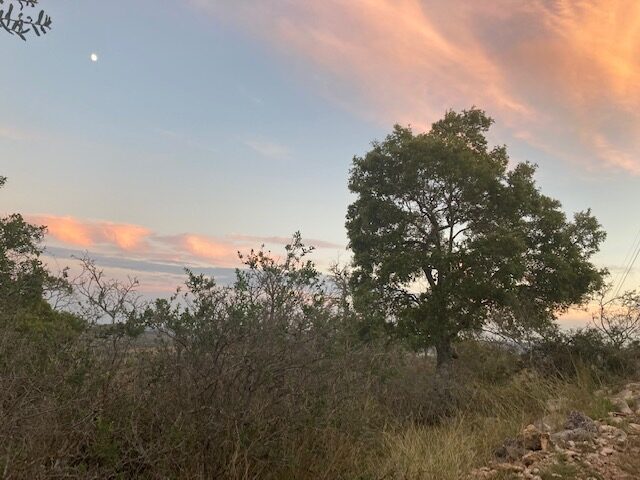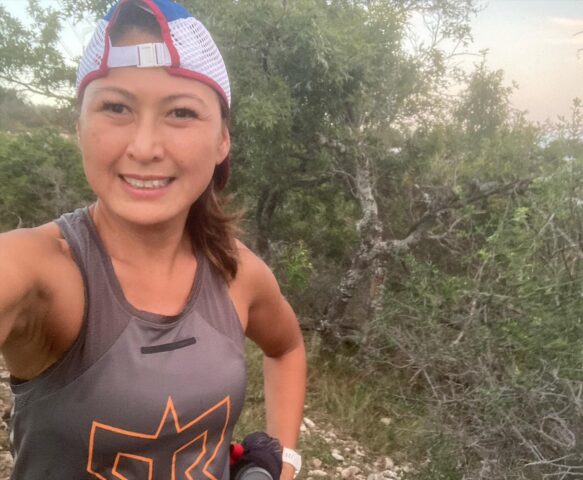 There was a lot of waiting around at this race.  It is a super long period of time, but I was not running the whole time.  I was not used to it, because in my hundreds, I am running the whole time.  At the same time, with my bad back, I was okay with this waiting around.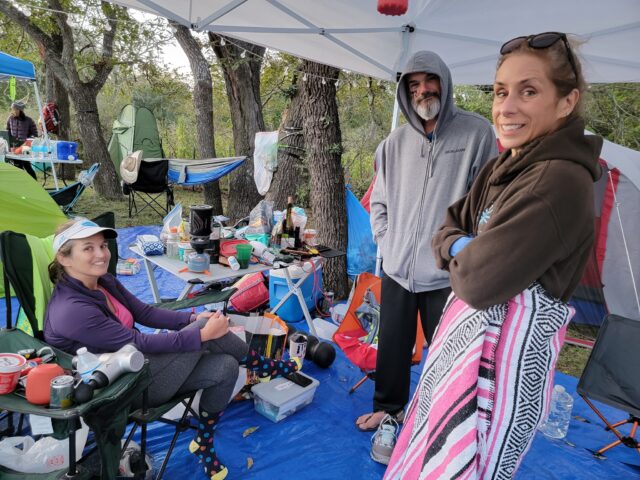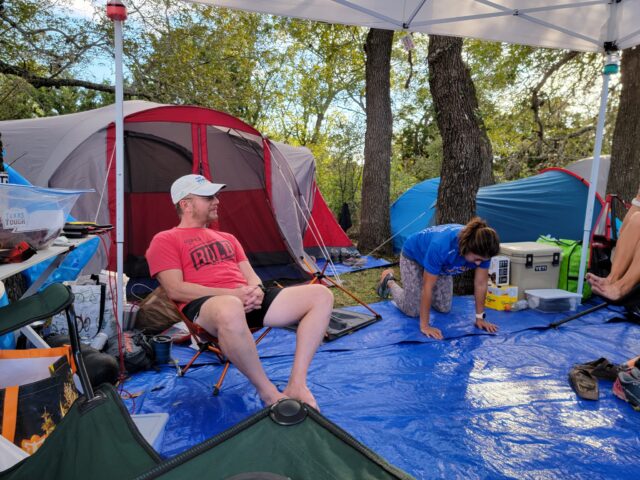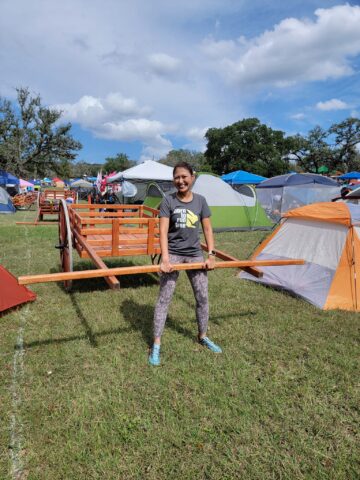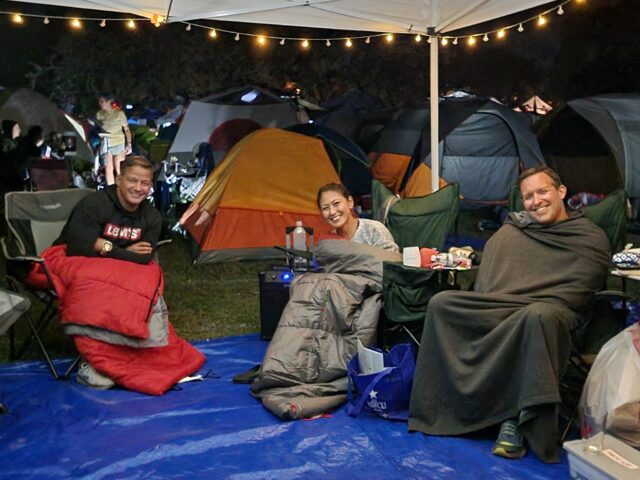 At our home base canopy tent, it was dinner time, so I put together a charcuterie board as my dinner – cheese, grapes, almonds, and sweet potato chips – and opened the bottle of La Crema pinot noir that I brought for the group.  Hanging out was nice, chatting around with friends, sharing stories and getting to know each other.  These are the friends whom I met when I first moved to TX.  Shannon, who did not join us at this race due to a previous prolonged injury, is my first friend in TX and the first person I ran with, who then introduced me to many other wonderful friendly Texans.  I'm grateful for having met these people who are very welcoming with their warm hospitality.  This is what makes races more enjoyable.  Then it was time for bed, brushed my teeth, then retired to my tent.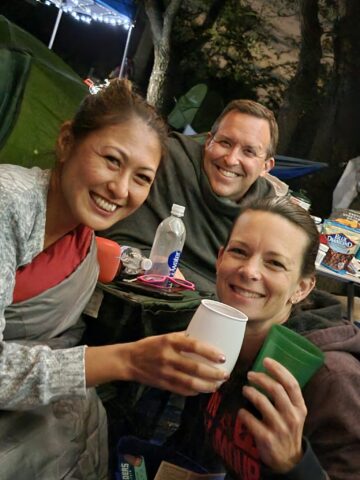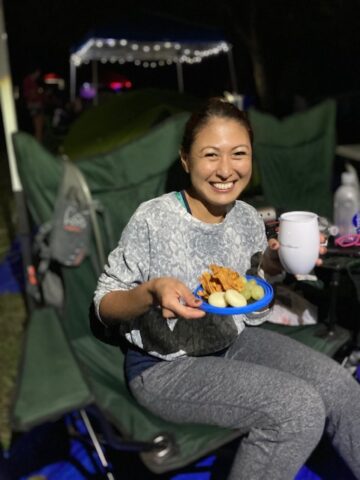 My next leg was the 3 miles which was during the early morning hours before dawn.  In looking at the start time of the runner before me, I calculated that he would be running his 5 miles in 55 min to 1 hr, so I planned to be at the start at 3:45 AM.  I slept for 4 hours, which was great as it helped my body repair and recover, including my back.  Dan, the runner before me, did not arrive till 4:35 AM.  At first I was worried, that something had happened.  He was smiling and in a happy mood.  Then I turned bitter, and in a cranky nagging voice demanded to know what took him so long.  He walked with another lady who was in his tri club team.  He later on explained that it felt like a safer bet since they ran at night in the dark, and was best to stay together.  After calming down I thought that was not a bad idea.  I then also stayed with another lady, Marlo, who was also in the same tri club I am in (since she mentioned to me she was not good at running in the dark).  I love running at night.  There is something about the calming darkness with just a little light to see the trail.  We both had headlamps and I also had a waist lamp that was bright enough to look far ahead.  I lit up our way and we stayed together, hiking and jogging the 3-miler.  In some of the trails I ran faster to see the route ahead, then ran back to her to light up her way in the areas where there were high drops and loose rocks, so she can get down safely.  We finished that leg in close to 1 hour.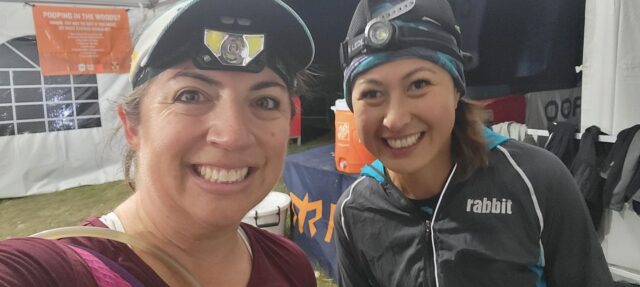 Throughout the weekend my back got progressively better.  On my last leg, the 7 miler, I was getting anxious to start my run, and also want to just get it done.  I got to near the staging area early, but walked around for a bit, used the bathrooms, and then chatted with a few people I knew.  I made my way to the staging area, looked at the monitor to check if our team is already on the board (if the team name shows on the monitor with live tracking, then it means the runner is 1/4 mile away), it was on the monitor at the bottom, which means he was close.  I got into the staging, tried to rip open my spring energy gel and shove it down my mouth, was in a rush to take the bib from Dan, then took off.  In my rush and while taking my gel, I almost went on the wrong route (yellow and green), turned around then found the red start, which was the 7-miler.  While running and after finishing my spring energy, I took my Base red pill which was basically beets.  I had energy.  I did not feel any back pains.  I ran a little faster, and still no back pain.  I paid close attention to the ground, ensuring my safety, as I picked up the pace.  I stopped at a few places to take pictures.  This is why I love trail running.  I was by myself, but could see a runner or two ahead.  Each time I saw a runner ahead, I had a goal of reaching them and passing if I can. 
Like a shark, I was 'eating up a runner' and passing them if I was feeling good.  I counted each runner I passed – it was a total of 8.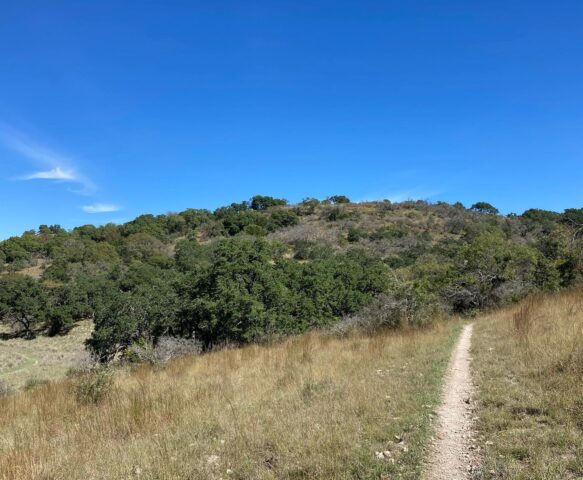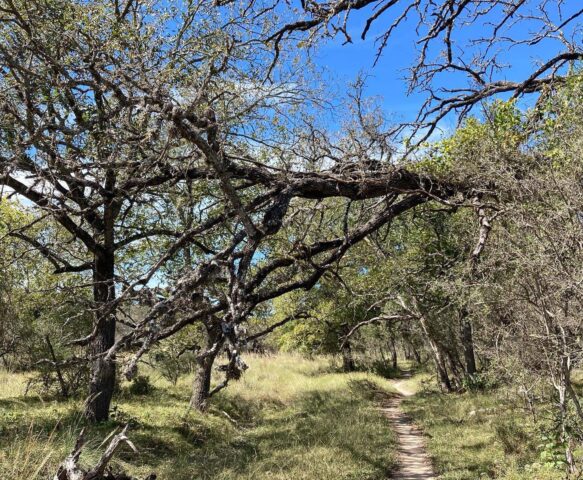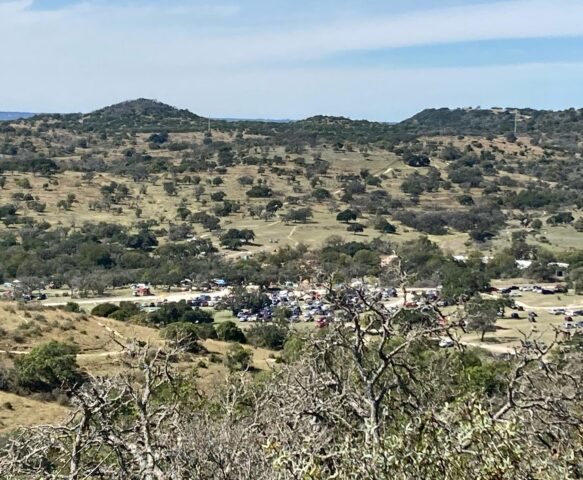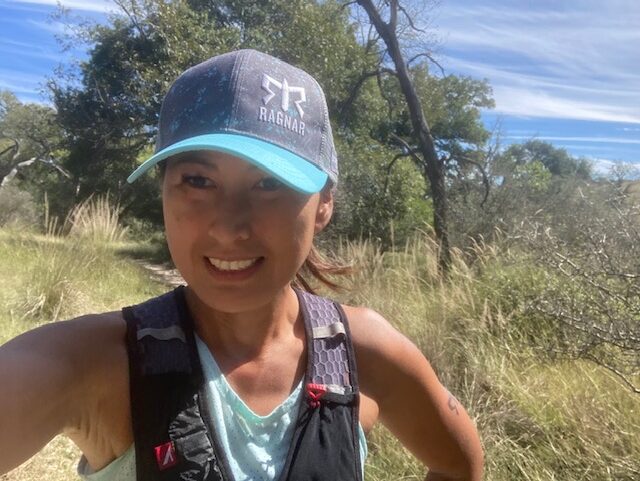 As I approached the finish, I could hear cheers. 
I pushed harder through this 7-mile course, feeling a lot better than Day 1.  I sprinted to the finish, meeting the rest of my team as we all crossed the finish line together.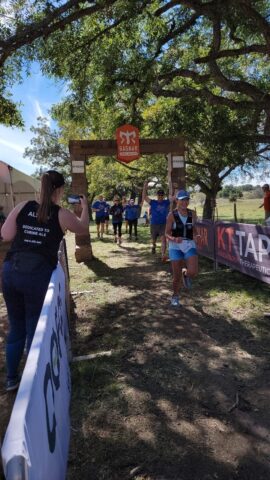 A few of us are no longer a virgin Ragnarian. We all did this together.  The race team, volunteers, vendors, and everyone involved put together a well-organized event, making this event a fun and enjoyable one for me, my team and the rest of the new Ragnarians.  Big thanks and props to the race organizer for this weekend!