"The miracle isn't that I finished. The miracle is that I had the courage to start." ― John Bingham
My friend participated at Bigfoot 200, a footrace that takes one through beautiful forests, majestic mountains, and dangerous lava fields and volcanoes, in the Pacific Northwest (PNW).  I have written this report from the viewpoint of a crew/ pacer for my friend, at her first attempt in participating at Bigfoot 200.
The race was held on 8/13-8/17/2021.  In a non-typical PNW weather, there was a heatwave in the beginning of the race (temperatures in the high 90Fs), but the race ended with a typical misty and raining PNW weather, on Tuesday 8/17 (at the low 60sF).  This was her first attempt at this distance.  I paced 18 miles of my friend's journey, hiking through treacherous trails, overgrown vegetation, and down trees, with 5 water-crossings, including a wide river.  While I successfully completed my pacing segment (reaching the aid station with 15 minutes to spare before the time cutoff), she eventually did not finish (DNF), finishing 180 miles before being pulled off the course.  This was still an amazing journey for her, and Team TEAL, achieving Karen's longest distance to date, with very little sleep and continuous activity.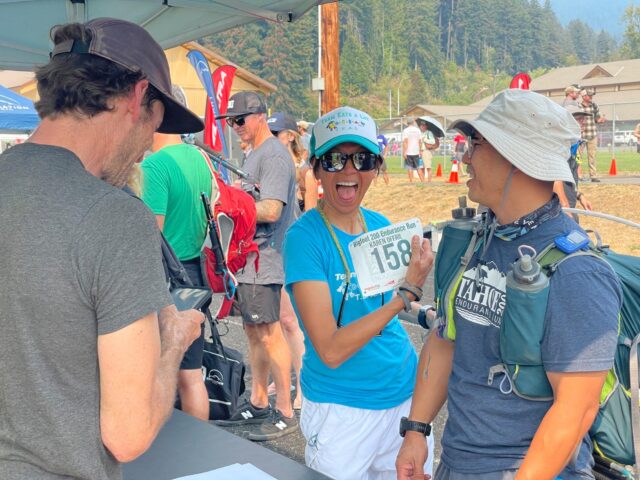 The beginning of the journey
Planning for this big race takes a village and a long time, even as a participant.  Our team, T.E.A.L. (Team Eats A Lot) have been in planning and training mode for almost 1 year.  I was still living in the Bay Area when I committed to this race (I now live in Austin, TX).  We had many planning meetings with food (we aren't TEAL without it).  We had practice runs, such as the 150-mile 2-day hike/run through the Marin Headlands in Sausalito, CA.  My friend, Karen (our runner/ participant), had prepared spreadsheets after spreadsheets of possible pace charts, course description of each of the pacers' segments, and tips and videos of those segments, for all of us to review to gain an understanding of the course.  Gears were discussed, from gadgets to blankets, jackets to waterproof socks (which I believe I was the only one that used it during the race – will explain below).  Along the way, throughout this planning, all of us, whether they were an ultra-runner or not, have grown to be one.
Race weekend – the beginning
Karen started her race on Friday morning, leaving the area around Mt St. Helens, and began her journey through the Cascade Mountains.  I flew out from Austin on Saturday (8/14) so I didn't get to see her start.  Pictures from Team TEAL were posted and I followed her race through the SPOT tracker.  It was very hot in the beginning, where they had to hike through hot lava fields with exposed areas.  We threw out our pace charts and figured to arrive at least 1-2 hours before the cutoff at the aid stations.  We were chasing cutoffs from the very beginning, leaving not too much time for Karen to sleep.  She was able to take at least a couple of 30-minute naps at the aid station, and a few naps on the trail for 5 minutes.  Nonetheless, as crew and pacers, we had to balance her resting time and energy to keep her going and moving forward.
My pacing segment: Chain of Lakes to Klickitat
At the start of my pacing section, I had two runners I was pacing: my friend Karen and another Filipino she met on the course, named Ramon.  This segment was described as 17.3 miles long, with water crossings and a 4-mile climb towards the end, including a mandatory out-and-back climb to Elk Peak.  Tip #1: Provide for a 'cushion' on pace – the distance may not always be correct.  We must have passed through a short twilight zone because my watch said we did 18 miles, whereas this section claims to be 17 miles.  I planned an average 28 to 29-minute pace for 17.3 miles, (this is all the runners can do at this point); and get to the next aid station in 8 hours, so Karen has time to rest.  We did slow down a bit (read later) during the last long climb, and still made it to the aid station before the cutoff.

There are 5 total water crossings, 3 of which are mandatory crossings, one allows for use of a bypass road, and the last one is a wide river (most likely 20 yards wide).  The water crossings were low, the highest was probably knee deep.  We took the bypass road where allowed, which was great because we avoided the muddy raging river.  Tip #2:  Wear waterproof socks! (at least at the sections with water-crossings, putting it on at the aid station right before it).  Our TEAL team made a big deal about these waterproof socks from Amazon however THEY DID NOT USE IT!  I did, I bought the socks since I knew my segment had water crossings.  My feet remained dry the whole time.  Even my KT tape on my feet remained dry, the whole time till the following day.  If one is a back-of-the-pack runner and chasing cutoffs, one would like to spend the least amount of time stopping/ stalling.  We spent at least 15-20 minutes for all runners taking off their socks and shoes, or changing their socks after each water crossing.  If I stopped them from taking their socks and shoes off, then they may have blisters later on.  So I just positively encouraged them to hurry up.
The first 2/3 of my pacing section were rolling hills, with few easy climbs.  I took this opportunity to bank some time and have my runners (well, hikers at this point) do intervals of 10-second shuffling.  Tip #3:  Make them shuffle – they can do it on downhills.  They seem to enjoy it so at some point, we did 20-second shuffles, and they did it.  There were some segments where they were feeling low points, so I spritzed some eucalyptus essential oil on both Karen and Ramon, on their buff and/or hat, so they can smell the aroma and keep them calm.  (Nice-to-have Tip #4:  Bring essential oil on the trail, it makes a difference).  Since we were banking some time, I allowed one 5-minute nap for them on the trail.  Tip #5:  Know when it is time for a trail nap, give them that opportunity, but keep it to 5 minutes max.  It really worked, made them refreshed and had new energy to continue.  The rest of the way, I had shared my mantra with them, 'strong legs, steady head!' to keep in mind that they still have strong legs and need to keep their head up and move forward.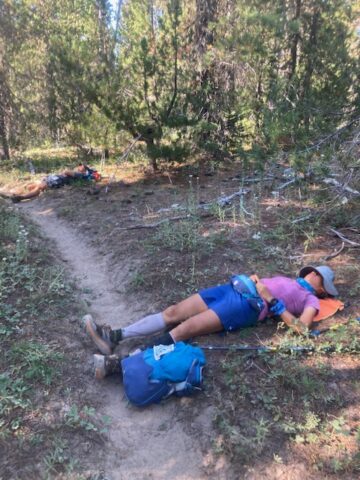 As we were approaching the last river crossing, we met a few more runners along the way:  Korel, Eddie, and Steve.  (I believe at some point Korel dropped behind us, but he said he was okay, so we continued onwards without him).
After the wide river crossing, we started the long ascent to make our way up to Elk Peak, where there was a mandatory out and back climb to the peak.  Karen, being a good big sister, reminded Ramon to eat and drink.  I took this tip and also reminded them throughout the climb, to drink and hydrate.  Tip #6: Remind them to eat and hydrate, sometimes at this point they may not remember to do so.  It was dusk as we continue to climb.  I sang some Filipino songs to Karen and Ramon to keep them entertained, they seemed to like it (I think so, unless they were being nice to me).  Nightfall was coming and they seemed to lose spirits again.  The climb included a few short downhills and flat sections so I had them shuffle again on those areas.  They kept asking if they were at the peak.  Hallucinations started for all the runners I had following me.  Eddie and Steve were in front of me; once in a while they would stop on the single-track trail, look left, then look right.  One time, I think it was Eddie, who said that there was a helicopter.  There was none.  Even Karen who was behind me, stopped for a minute.  I looked back and she was gazing to the left.  It was just a bush; and the views were actually to the right.  Steve and Eddie were dropping their stuff unknowingly – water bottles, buff – and I kept picking up after them.  I felt like a mother looking after 5 kids who are somewhat quiet but didn't know better what they were doing.
It was starting to get dark by this time, and windy and cold.  We all stopped for a moment to put on our jackets and turn on our headlamps, then continued to climb.  We finally got to the point of the out-and-back to Elk Peak and we met another runner, Melissa.  I led us all to the top through the loose rocks and steep (45% grade?) hill.  I lost Melissa when we got to the top, kept asking everyone where she was and they said she stopped.  I figured we can catch her on our way down.  When we didn't see her, I kept yelling for her.  But we continued, since I had to get 4 runners back to the aid station, and we were running out of time.  The descent to Klickitat aid station was steep, with switchbacks and down trees.  Even I fell on my butt, but it was soft ground so the runners and I were fine.  We found Melissa on the trail, she decided to DNF as she didn't want to do the climb to Elk Peak.  Since it was dark, I had to make sure we find the reflective flags that marked the route.  With roughly 15 minutes to spare, I saw the aid station lights nearby, started yelling to my runners that we were really almost there.  I started yelling ahead, that I had 5 runners behind me.  I was relieved when we got to Klickitat aid station, and had but a few minutes to get the runners in and out.
Karen checked in, went to our pacer car.  We had a skeleton crew, only Ryan, the next pacer, and I, helped get Karen ready.  Nearing 10 PM (the cut off time at that A/S), Karen said to check her out, as she will be almost done.  I did check her out with the aid station captain.  30 minutes after I checked her out, she left the aid station with Ryan, to continue onto the course.
Afterwards
As I was deciding whether to drive down the mountain, or sleep in the car, I went back to the aid station and asked if anyone needed a ride down the mountain so I have company, or follow someone else driving down.  The A/S captain asked me if I was with Karen, at which point she told me that Karen was not allowed to be 'crewed' again at the aid station area after she has checked out, per the rules (she was correct, I do remember reading this in the rulebook).  The captain was going to report it to HQ and have Candice, the RD, decide on the outcome.
(Side Bar:  That night, I ended up driving down 3 runners from Klickitat aid station, back to the finish line, since they had officially dropped.  But not Karen as they were able to continue.  It was an 18-mile rough drive down the windy, washboard roads, where I had to ensure I was at the right speed, not too fast nor slow, and minimize the uncomfortable ride).
The next morning, Karen and the team learned the outcome upon her arrival at the next aid station at Twin Sisters.  She was disqualified on a technicality that she received crew assistance after checking out at the aid station, and left past the cutoff time (or something like that – I was not there but was given the news).  Our TEAL crew and pacers who were at the aid station (except for 3 of us), were high in emotions and were not very happy with the outcome and news.
Tip #7:  Read the rule book carefully and clarify, if necessary.  Do not rely on hearsay.  As an Internal Audit professional, I should practice what I say:  Trust but verify.
My take:  While I see the argument on both sides, being a compliant person, I agreed, rules are rules.
"Smokey, this is not 'Nam. This is bowling. There are rules."  — Walter from the Big Lebowski (watch here:  https://www.youtube.com/watch?v=YI206NbZqek).
Anecdotally speaking, there were other runners who had received crew assistance in other aid stations, after checking out.  It is like speeding on the freeway, sometimes you get a ticket, sometimes you don't.
Perhaps Karen could have finished this 209 mile race (that was the actual distance).  She is strong and determined.  I know this from running past races with her.  She is mentally tough and can beat any adversary.  But it is all speculation at this point, as she was not afforded it.
Ending on a high note
While it was not the outcome we all expected, I feel that this experience and journey has brought our TEAL team closer together, both those who were tracking remotely and us onsite, spending days and nights and being tired and fatigued ourselves.  We laughed, we cried, we ate (it ain't TEAL without the food!).  Karen accomplished a lot throughout this journey.  This is the longest distance she has ever attempted and gone, and the longest continuous activity, while remaining healthy and sane, remembering everything that occurred throughout the weekend/week.  Team TEAL became ultra-runners and ultra-crew/pacers.  I personally enjoyed the company of my friends and TEAL family; and look forward to our next adventures.
"…you need to honor what you've accomplished, rather than thinking of what's left to be done." ― John Bingham
Photo credit from various TEAL members
More photos: