Tahoe Rim Trail 100 miler is a footrace that takes runners around Lake Tahoe and the ski mountains in the area.  This race advertises that the course will give you a glimpse of heaven, and a taste of hell.  They were not kidding when they say this.  The course wraps around parts of Lake Tahoe on the Nevada side, then goes up and down rollers and certain peaks at various other lakes (e.g., Marlette Lake) in the area.  One will not be bored in seeing the beautiful sites.
My friend, Brian, (who is a friend of a friend, from Las Vegas, NV) ran the race and I volunteered to pace a section of it.  This is so that: #1) I can be his eyes and ears at night when he is already tired and weary, 2) help him finish, and 3) practice my pacing long distance running once again, since it has been a while.  My friend, Yvette, is our sole crew.  I really wanted to see her (since she lives in CA and it has been a while since I have spent time with her); hence I agreed to come to Lake Tahoe.
Lake Tahoe:
I was greeted with beautiful views at TRT100; Lake Tahoe and the mountains never disappoint and always deliver.  The challenging climbs and altitude were some of the things that make this race very difficult and have a low finisher rate.  I was planning to pace for 35 miles, however, due to my own poor planning, I was dropped by my runner after 23 miles.  I told him to continue on without me, as I didn't want to slow him down.  He did continue and finished the race in 33 hours, about 3 hours ahead of the cutoff time.  I was relieved that he finished, even without me.
The details on race day:
I arrived in Reno late Friday night, Brian was already sleeping in the hotel.  I did get enough sleep the night before, being my flight was late.  The next morning we had to take Brian to the start line at 4:30 AM for a 5AM start. After seeing the runners off when they started, we went back to the hotel, and slept for a couple of hours, since later that day, I had to start my pacing duties.
We got to the aid station (Diamond Peak) where I would pick up my runner, and waited there for hours as we didn't know, and Brian did not advise us, on his pace and estimated arrival.  BUT, this is the definition of CREW – Cranky Runner Endless Waiting.  As Yvette and I waited for Brian to arrive, we set up Yvette's massage table, and she provided free massages to runners and pacers.  Yvette is a medical massage therapists, and she has her own practice and store front in Sacramento, CA.  I also got on her table and she worked on my shoulder and back, as they had really chronic tightness.  This was my first experience with her hammer, blades, and suction cups.
While we were waiting, we met a few nice people from San Diego, one of them is Cindy, who said that her sister was running the 100-miler, and she was pacing her later.  Cindy looked really  familiar to me, but I was not sure where I met her.  She was tall, beautiful, with long black hair.  They had other friends around them as well and we were chatting with them casually.  Yvette worked on Cindy to loosen up her calves, since she was going to pace her sister.  After a couple of hours of chatting with them, in the spot and benches we shared with them, Christy, their runner arrived at the A/S.  I blurted out, "They're the running skirts twin sisters!" I just realized where I knew them.  They created and own RunningSkirts, Cindy and Christy.  I did not get to take a picture with them, Christy did not seem to feel well, so didn't want to bother them.
I finally was settling down in our waiting area, wanting to rest a bit before Brian arrived.  It was short-lived.  When our runner finally arrived, I was caught off guard.  I didn't get my hydration pack ready nor my nutrition to bring with me.  This was not like me to be unprepared.  This was good practice for my next events. Yvette had to help and serve our runner, so I also got ready myself.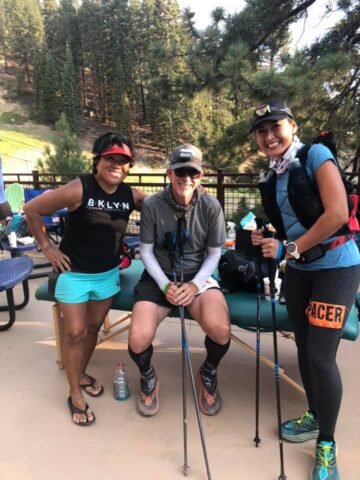 My pacing segment started at Diamond Peak, which takes runners and pacers up a black diamond ski slope from the aid station.  The start was a steep 45%(?) grade with loose sand, so slipping backwards is a risk one takes, especially if without trekking poles.  After 2 miles of this slope we reached the top, which took us about 1 hour.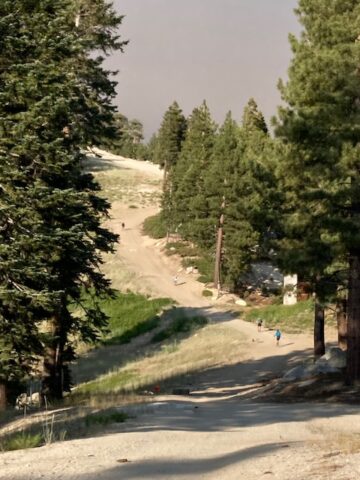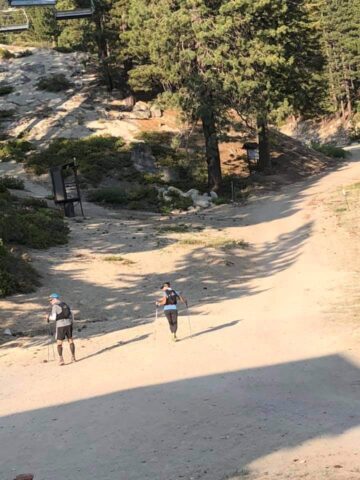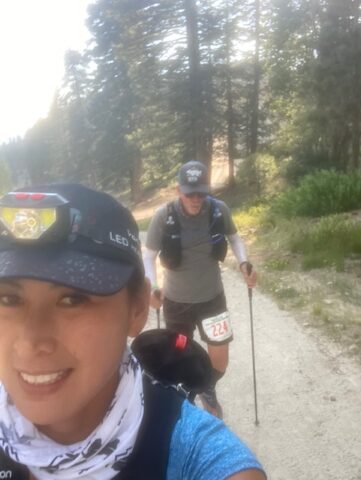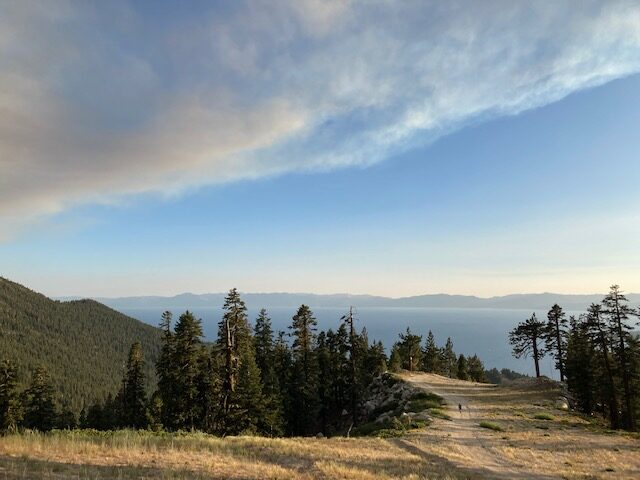 We continued on, going through groomed trails that feels like walking on pillow, and taking in the view till the sunset.  At nightfall, my runner started feeling more fatigue, and had difficulty breathing.  We were getting higher up in altitude.  We stopped several times, for him to catch his breath. At one point, in the dark, we were sitting on the side of the trail.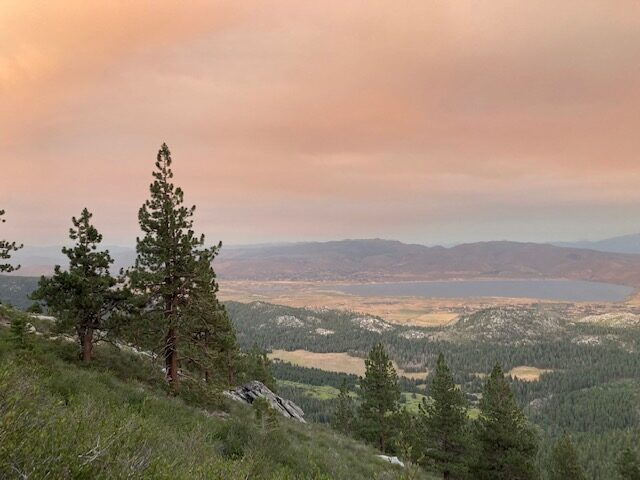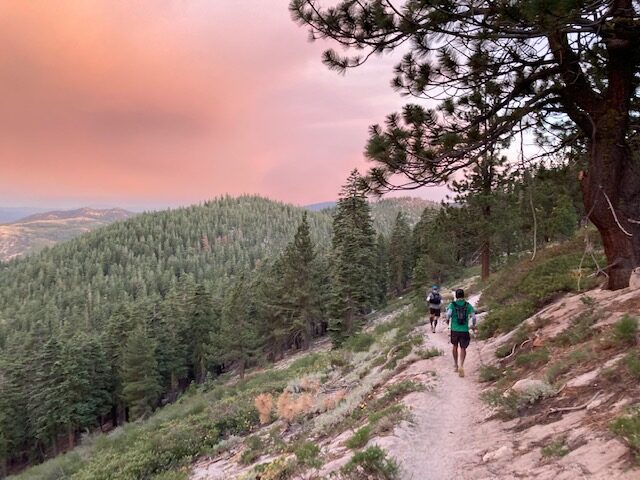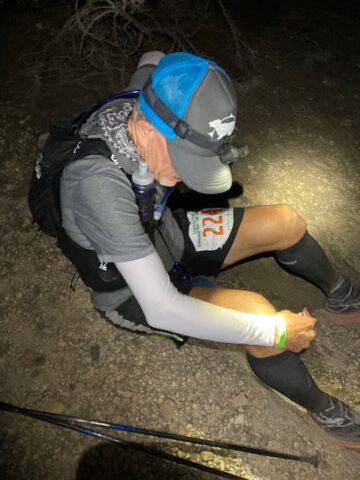 Medics riding on their mountain bikes rode throughout the course, going back and forth on the trail to help runners in distress.  One medic found us on the side of the trail, and gave my runner some Hammer Anti-Fatigue pills, as he was not feeling well.  We were able to continue on and reach the next aid station without stopping.  Those were probably the magic pills that gave my runner the energy to keep going.
On a side note, some of the aid stations were really fun at night, it was like a party.  One even had an open bar and dancing.  I think pacers appreciated this the most, as they partake in the drinking challenges.  I personally did not participate, since I felt responsible for my runner (although those bartenders were pretty forceful about me having a shot of whiskey).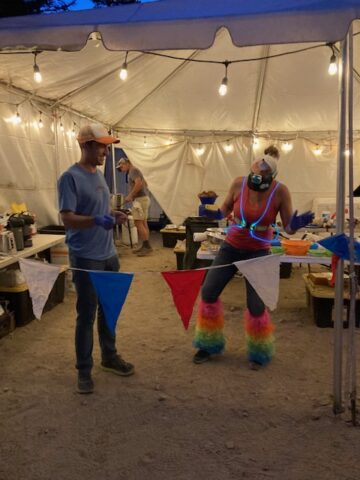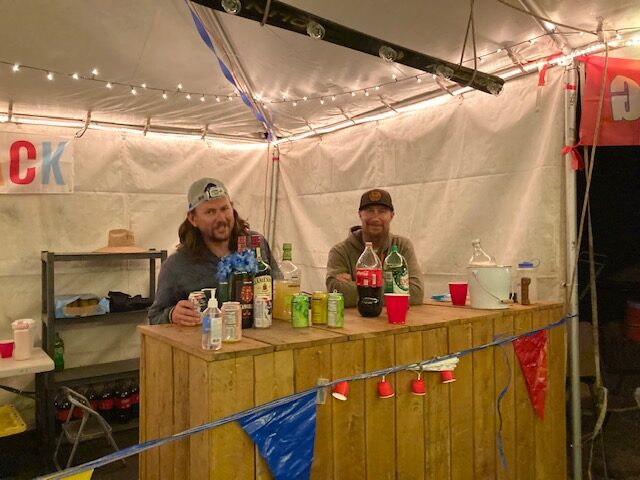 After partying at aid stations we continued on, again.  The hardest part of my segment was climbing up to Snow Valley Peak, apparently that may have been their second time up there.  After that ascent is a long descent on rocky terrain, the type of trail where I am not very good.  Four hours into my segment, I was starting to lose power on my headlamp as well as my waist lamp.  Now with renewed energy, my runner stayed ahead of me, even reaching the aid station before me.  I met another runner from behind me, he stayed behind me and shared his light, so I can see the trail.  By this time my lights were really dim and I would not have been able to see the rocky terrain had it not been for the other runner's light from behind me.  Two aid stations later, when my runner whom I'm pacing got ahead to the A/S before me, I asked him if he minds going ahead without me.  At this race, it is allowed to drop a pacer.  There was still 4 hours of darkness before daylight, and I have no more light (my headlamp and waist lamp were rechargeable but I had no battery pack nor cords to recharge them).  It was at Tunnel Creek aid station when my runner left without me.  For the first time, I got dropped as a pacer.
Pacer, runner, crew – at the Finish Line:
I overestimated my capabilities. It has been a while since I have prepared for a long distance run.  This was good practice for me, as I prepare to pace another friend at a bigger race in August, Bigfoot 200 mile run.  I still had amazing adventures in the mountains.  I was able to visit and spend time with my friend, Yvette, which was a win situation.  Oh, and our runner finished.