They were not kidding when they say, "Running with mountain lions since 1983."  I am talking about the Quicksilver Running Club, the organization that put together the Quicksilver 50km/100km trail race last Saturday, May 12th.  I got my money's worth for the race fees, as it is a well-run event.  In addition to all the Patagonia swag given out when I picked up my race bib number, I received the best-in-class service at aid stations (thanks to the volunteers), met new friends along the course, encountered a mountain lion, and came out alive.  Even if I did not receive the finisher's belt buckle (instead of a medal, they give out belt buckles on these 100km races), I ran only 53 miles of the race course.
Preparation:
I trained on the course.  The training runs were 20 miles at a time, and although it was good to feel the terrain on my feet, and the elevation changes, I didn't know how I would feel running on the course running through it the whole day.  On race weekend, I stayed in Campbell, at my friend, Deirdre's apartment, so that it is only a 15-minute drive to the start (instead of 45 minutes).  The day before the race, I had the worst allergies ever; my nose and face were red and sore.
Race Day:
Over 200 runners participate at this annual race, which the 100km distance is also a Western States qualifier (oldest and prestigious ultra-race, the Boston Marathon of ultra-running).  The course takes runners throughout the rolling hills of Almaden Quicksilver State Park in San Jose, CA, and runs into Sierra Azul in Los Gatos.  According to other participants, the course had close to 16,000 feet of climbing, 9,000 feet of which was from the first 31 km.  The race started early, at 4:30 AM.  As all runners toed the start line, Park Rangers on their pick-up trucks were driving up the fire road where we were going to run, probably to scare off the mountain lions and other creatures of the forest.
The first half of this race went well for me.  I started with the back of the pack runners; I knew I would be hiking the first few miles, which are uphill, until I warmed up.  My nutrition was on track, taking in the right amount of calories every hour (mainly Clif organic ginger/beet/banana, BASE salt, Tailwind on my small flask, and food from the aid stations).  I carried a pace chart with me, with estimated times I should arrive at each aid station so that I am on track to finish – either the stretch goal, or just to finish within the cutoff.  It was nice to see friends at the Lexington Reservoir aid station at mile 18.  My friend, Guy Herr, told me to follow Jim McGill (he was also racing), as he runs at the cutoff times; so I followed him until Dog Meat when I couldn't keep up anymore.  He had poles that helped him up the steep hills.  My legs are my trekking poles; although I should probably practice using them if allowed in races.  I met all the stretch goal times until mile 26, and was at my "to finish" goal time half-way through the race, which was at Woods Rd aid station.  This was probably my point of breakdown.  I was only half-way through and did not have enough cushion time.  I had my sad-face on, and almost wanted to cry.  Dwight (my friend and pacer, who also volunteered at the aid station), gave me a hug and said he will meet me at Mockingbird by 3:30 pm (which was my stretch goal).  I also took a break to pee in the woods (which was the only time I peed during the race, until I finished), while silently crying.  At this point, my goal is to get to the next aid station within the cutoff – which was Hacienda by 3:30 pm.
I powered through the downhill, headed towards Hicks aid station.  I saw Pedro, who I met earlier in the race at Dog Meat, through Nina (who was taking race photos at the top of the hill).  He was in pain and ready to drop off the race at Hicks AS.  He is normally fast, and his slow run was my powering through the downhill, with tired legs.  He was going to drop at Hicks, but his car was at Hacienda.  I wanted some company, so I asked if he wanted to run with me to Hacienda, it was only 3.6 miles from the Hicks aid station.  He served as my pacer, and he made sure we got to Hacienda by 3:30 pm.
Dwight was already at Hacienda (mile 41) when I got there, and at this point, pacers are allowed.  After I replenished at the aid station, we continued to the next Aid Station with a cutoff.  As we approached Mockingbird, a few fast runners were finishing the 100k, so we let them pass.  We then got to Mockingbird (mile 43), where the finish line festivities were happening.  I had 15 minutes before the cutoff at that point.  My sis, Raciel, helped me replenish my hydration pack, I picked up more Clif organic ginger/beet/banana, ate a little at the aid station, and off we went, 18 more miles to go.
I don't know how to describe my state at this point.  I think everything was going out the window.  My legs were feeling the stress from running through Dog Meat, Kennedy 4-mile uphill, and the rollers (which are really steep uphills and downhills).  Dwight had to remind me to eat and drink.  He gave me a Salted Caramel Gu with caffeine, probably because I was fading.  We got to Bull Run aid station (mile 47.4), and I knew we will not make it on time to McAbee before the cutoff, it was just impossible (only 40 minutes to cover 5.6 miles).  I thought to myself, should I drop now?  The short cut to the finish was 3 miles only.  Dwight said, "if we go to McAbee then you officially missed the cutoff.  But if you drop here, then you voluntarily gave up."  It was not even 6 pm yet and there is plenty of sunlight left, so we went ahead and continued to McAbee.  I did the ¼ mile on Catherine's tunnel, might as well do the official course.  We saw runners coming back from McAbee and cheered them on.  I was feeling much better, maybe because all I needed to do was to get to McAbee.  The sweeper, Jeremy, was picking up the ribbons that marked the course.  We knew the course so we told him he didn't have to wait for us, and that we would help sweep the course if he missed ribbons.
My Garmin ran out of battery after 14+ hours, which was mile 50.  I was relying on Dwight to tell me how much farther to McAbee aid station, since his Garmin was still working.  I started jogging ahead of Dwight, as he also started picking up runner's trash on the ground, when we saw them.  On New Almaden trail, a single-track trail, I saw a mountain lion sitting in the middle of the trail, like it owns it.  That was the first time I ever saw a mountain lion in person; it was blond-ish in color.  I thought it had some light stripes, but maybe I was seeing things.  It was staring at me, so I walked back to Dwight, who suggested we wait a bit.  I picked up a small branch from the ground and hid behind Dwight (he was tall, and they say make yourself big if you see a lion).  I felt like a little kid hiding behind her dad.  When we saw it jump off the trail, we thought it was clear, so we walked through.  As we were walking, we saw another lion, maybe a cub, jump off the trail, so we took a detour to Cinnabar, which took us to Mine Hill, a wider trail.  After a long descent down Mine Hill we finally reached the trailhead at McAbee, and I told Raciel the story of our adventures.  At the end of the day, I completed 53 miles (give or take a mile, for the detour), and ran/jogged/hiked/walked with my heart.
These type of races are difficult, challenging and humbling to the soul.  But I keep trying; and I win some, and I lose some.  The father of ultra-running, Ted Corbitt, once said, "Long distance runners have to be very strange people.  You have to really want to do it.  You don't have to win or beat someone, you just have to get through the thing.  That's the sense of victory.  The sense of self-worth."  He is right.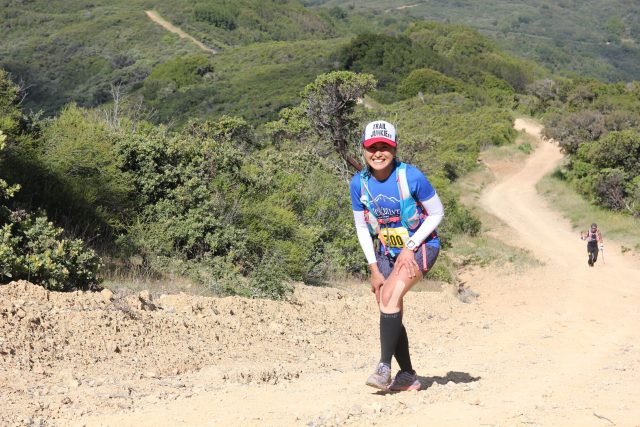 The climb up Dog Meat.  My friend, who was taking race photos at the top of this hill, said, "smile for me!"  Other runners use trekking poles to hike up this hill, as they are allowed in the race.