I ran the 50-miler at Brazos Bend 100 (BB100) on Saturday December 4th.  BB100 is what the race company calls the event, including having that event name on the medal, even if there are other shorter distances; we have the same medals for all events (also had 50miler, 26.2 miles, and 13.1 miles distances, in addition to 100 miles which is the main event).  The course is very flat, hardly any elevation (maybe a total of 300 feet in 50 miles), which is a draw to many beginners to try ultramarathons, and to all other runners, to get a PR (personal record) or win the race.  Since it is a flat and fast course, I planned to run 10-11 minute pace, but it didn't work too well when I started hurting half-way through my race.  Despite the hip and glute pain during the second loop, I finished strong, with a total time of 11:26.  This is now my PR for 50 miles, I just checked, my fastest before this was American River 50 in 2014 (11:35) which to me at that time, was an easy course and had ~5,600 feet of elevation gain.
Preparations
I signed up for this race as this is the right timing for training for my 100-miler in February.  A couple other things that drew me to this race: it is flat, and it had alligators on course, well, runners may see one.  I just thought that would be cool.  Brazos Bend State Park (where the race happened) is located ~45 miles outside of Houston, TX.  I stayed at a hotel in Sugar Land, about 30-minute drive north of the park.  I drove the Friday before the race from Austin area, ~ 3hrs drive.  I had no crew nor pacers, I wouldn't need a pacer anyway for this distance.  This is what we call sCREWed, the time when a runner has no crew nor pacers helping them.  It is another type of endurance, if one can take care of oneself without relying on others.  This is race is a practice for me, for the longer distance races, as I might potentially be sCREWED for Bandera 100k and Rocky Racoon 100 miles.  I had a few learnings on this day, including the need to be stronger to take care of myself after a long endurance race.  A little rest does the trick.
Race Day
The night before, my car was already packed with what I wanted to bring to the race, including a chair, tarp, and my drop bag at the start/finish.  Got up at 4:30 AM, out the door at 5:10 (later than when I wanted to leave), got to the park at 5:45 as it was a foggy morning and I drove slowly.  It was still good timing as I had enough time to park, get on the shuttle, and onto the start/finish area to pick up my race packet.  The only thing is, since it was so early and I was still sleepy, I only brought my backpack (with hydration and race stuff plus post-race clothes), but not the entire tote with my camping chair and tarp, etc.  At least I had my race stuff.  Lesson #1:  Check everything I need for the race/ transition, before leaving the car.  If I have transition/ aid station gears, be sure to bring everything to the start/finish prior to boarding a shuttle.
I got to the start line right before 6 AM.  It was still dark.  I saw the 100 milers start, then it was waiting time for me, till the 50 mile start at 7 AM.  It was enough time to pick up my packet, relax, use the porto potty, and find a spot for my drop bag at the start/finish.
At the start line, I chatted with few people, noting that there were a LOT of first timers.  I found another RADrabbit teammate (we #runinrabbit gear), Stacey from Dallas, it was going to be her first 50 mile run.  I met Brenda from Houston, she is 70 years old, also her first 50 miler.  I also met Katya, younger Eastern European lady from CO, she has done ultra before, and showed me a picture of an alligator along the course, sun tanning along the banks, the day before our race, as she explored the trails in the afternoon.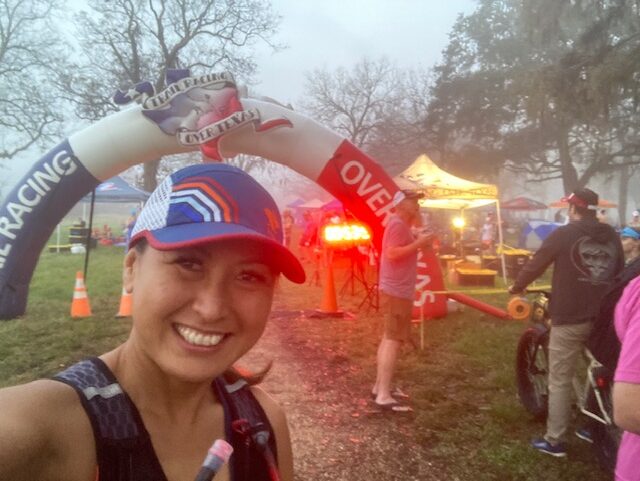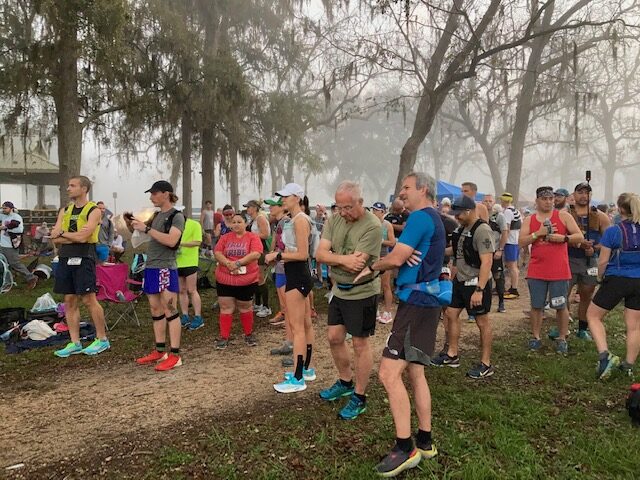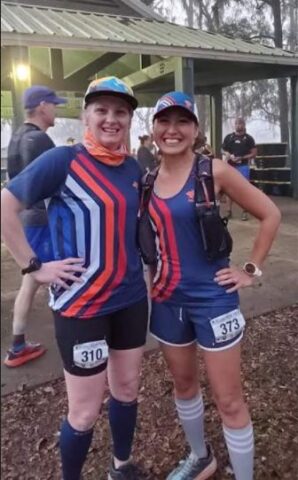 The course is a 16.5 mile loop, and we run it 3x for the 50 miles.  Since this is a flat course, I quickly strategized to do laps 1 and 2 in 3 hours each, then lap 3 in 4 hours.  That meant running ~10-11 min pace.  In summary:
Lap 1 – Averaged a 10-minute pace.  My sister told me I was top 10 at that point.  Lap time 2:48
Lap 2 – Walked a lot more due to hip and glute problem that acted up around mile 22-ish.  Lap time 4:26
Lap 3 – Got chased by an alligator!  Kidding! Took an Advil and was able to jog again, at least at a 13-minute average pace.  Lap time 4:12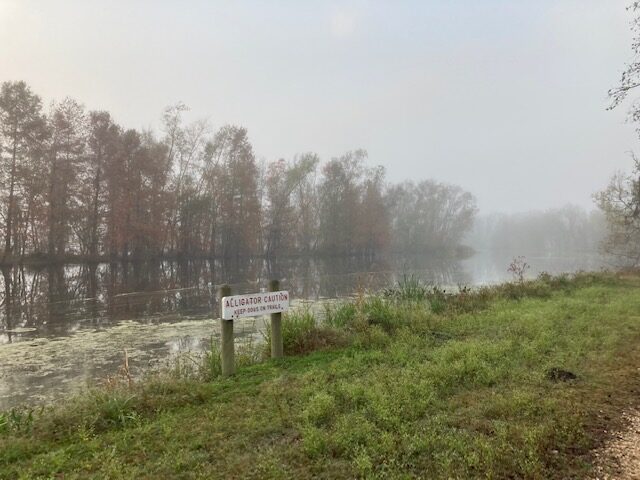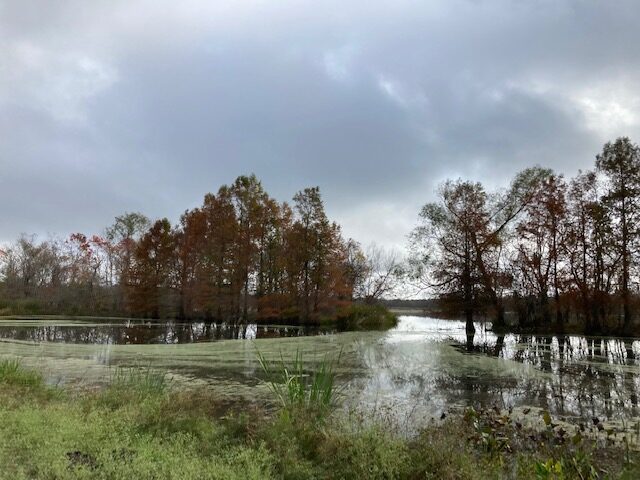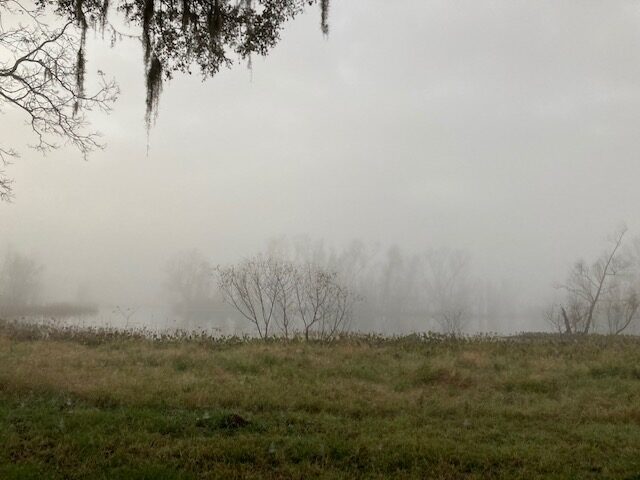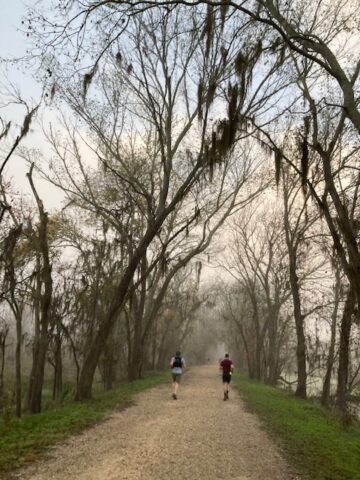 Lesson #2:  Don't go out too fast in the beginning, review the course before the race, and know your limits.  A flat course is deceivingly easy.  One still has to pace throughout the distance.  There is no such thing as an easy 50-miler.  This is a rookie mistake.  I felt good that morning.  I felt strong running out of the start line, slowly increasing my pace, and before I knew it, I was running between 9:30-10 minute pace, as if I was doing a half marathon, but this is 50 miles.  I just continued then thought I'd slow it down for Lap 2.  It might have been too late.  I have had tightness in my hips, and occasionally, I get glute problems/ soreness.  I haven't had it this bad in the past.  It hurts to run.  It hurts to walk.  I stopped to stretch (figure 4 stretch) and put pressure points on the hurting areas.  I iced it at aid stations.  I asked for Advil or Tylenol at the Medic tent, but they didn't have any medicine, liability issues they said.  I don't know what kind of race this organizer puts together without liability, hopefully he has some sort of insurance.  I don't think the medics are even EMT.  They might have been manicurist because all they can do is fix your blisters from your feet.
It was a warm and humid day on race day.  I checked the weather; it was 97% humidity.  There was a little bit of precipitation; it felt like we were inside a wet sauna.  I made sure I had my BASE salt as I knew I sweat a lot and need to replenish with electrolytes.  I did well on nutrition.  I had: a Spring Energy every 2 hours (a mix of the Speednut and Long Haul, until I ran out for the last 3 hrs); Skratch 1L (2 500ml soft flask, then refilled with aid station drinks: Gatorade and Base Watermelon); other aid station food (pumpkin pie bites, Doritos chips, Gatorade slushee, oranges, bananas, pickle, pickle juice).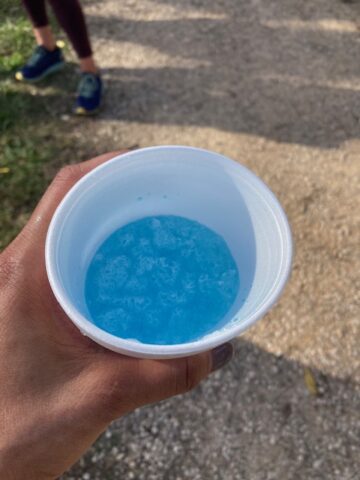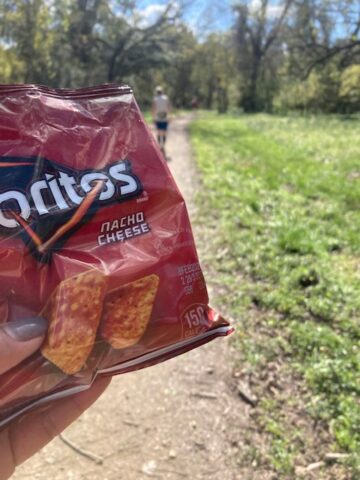 Well, I'm not sure if any other nutrition would have prevented the glute and hip pain, but I know I was religiously following my nutrition.  The hip and glute pain was not going away, despite walk breaks and stretching.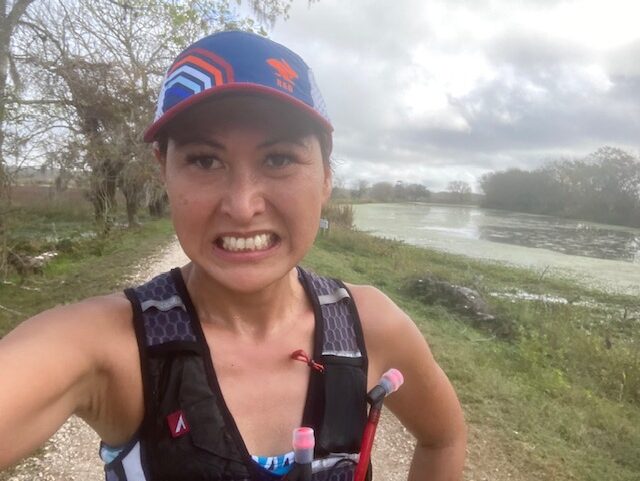 Lesson #3: Bring your own meds/ pain killers if needed.
My car was located near one of the aid stations at 40-acre lake, so I made sure I took my keys from my drop bag at the start/finish, after Lap 2, and get to my car where I had Advil.  When I got to that aid station, and into my car, for a split second, I wanted to go home and stop the suffering.  I quickly got that thought out of my head, took my Advil, and hoped it takes effect immediately.  I had probably 14 miles to go at that point, I can just grind it out and take care of the hip problem after I finish.  I made this call because it was not like there was something broken.  It was probably just overused and fatigued.
The Advil kicked in shortly after I took it, and I was able to run a 12-13 minute pace.  Along the course, I also saw Tony Nguyen (a friend from the Bay Area, I will reach out to him about RR100), and Su Robertson (my sis' friend from Vegas and a bad-ass 100 mile runner, with quite a few buckles under her belt).  Both ran the 100 milers and finished strong.  I saw Santa as well!  He might have only been doing the half, he was in full Santa gear, with a sack of gifts, and playing Christmas music the whole way.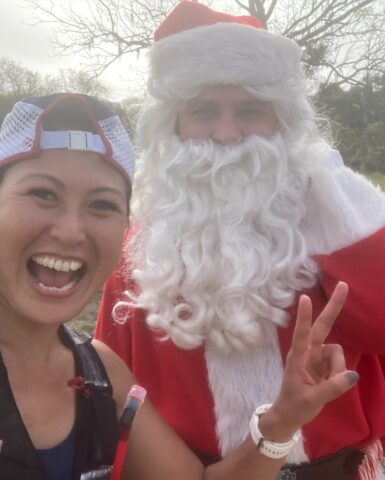 It was starting to get dark.  I was not expecting to finish in the dark, but just in case, I did take my waist lamp with me from my car when I got the Advil.  As I approached 45 miles, I couldn't push harder, maybe it is in my mind, it was harder to see in the dark.  I have depth perception issues, I think, in the dark.  The ground seemed different.  The route seemed different in the dark.  The course markers and flags were not reflective so one can miss it if not paying attention.  But my brain remembered the course, and it was not difficult to follow.  I was still coherent, which is great, because at this point I would only be half-way done for my 100 miler.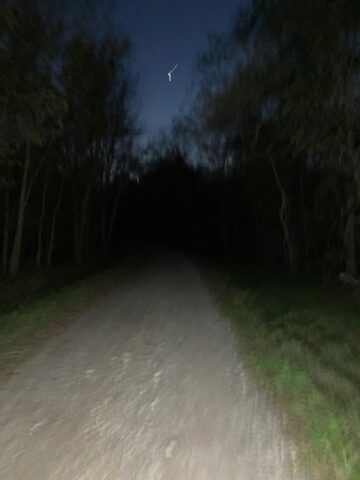 I finished strong, running through the finish line arch.  It was nice to see a lot of people, other runners' supporters and family.  But not mine.  I am getting used to it now.  Even in my new home state, there are not too many ultrarunners nor people who would want to travel with me at my races – TX is not a big draw and destination place to go to, at least for my existing ultrarunning friends not from here.  My husband watches the dogs at home, and they are crazy and wild, so would not be a good idea to bring to a race.  Plus I always DNF every time they come – the few times that they did come.  Nonetheless, I liked the independence.  Whether I am with people or alone, I celebrate my accomplishment.
Lesson #4:  I can take care of myself and strong enough, albeit slow, to carry my stuff.  Although I didn't have the tent, etc.  Lesson #5:  Get a cart so I can bring all my stuff and pull in a portable, foldable cart.
Back at the hotel…
I drove back 30 minutes to the hotel, it was noneventful, I was super tired, right after the race.  I thought of going to the Japanese hibachi place near the hotel for dinner, but after taking a shower, I just ordered from Uber Eats (had grilled oysters, steak medallions, and crab bisque) and ate at the hotel room.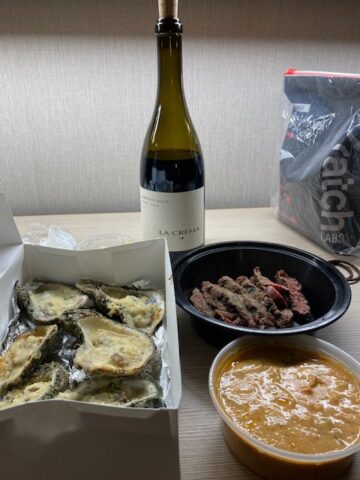 I had my bottle of wine that I brought from home, so I celebrated in my room, while I did the AirRelax compression boots. I also had a chance to examine the blisters on my feet, it only hurts if I touch them, but figured I'll take care of it when I get home.  I packed/ tidy up for an early departure the next day.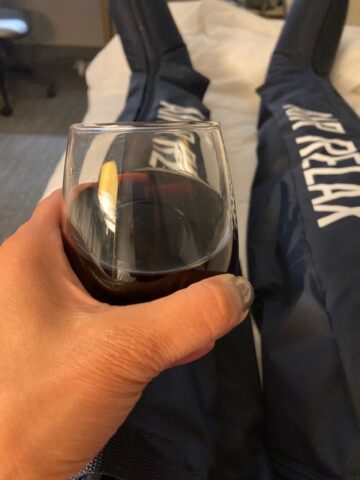 Lesson #6:  When it is hot and humid (will sweat a lot), or a rainy day – whenever I think I might get wet feet, be sure to tape my feet to prevent/ minimize blisters.
Lesson #7:  Trim toenails a few days before the race.  My toe-daggers poked holes into my favorite compression socks.  I should know better, but I didn't have time to do it.  Oh well, they were overused socks anyway.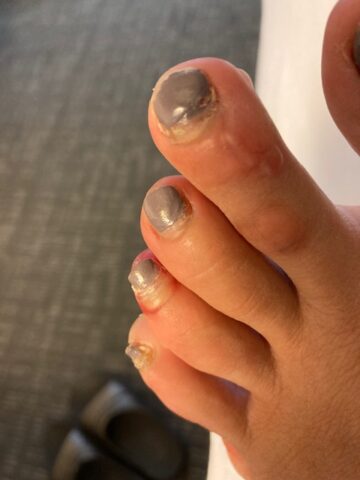 The ride home
Sunday morning, I drove back to Austin area, after coffee and croissant at a nearby coffee shop.  It seemed like I was the only one on the road.  The 3-hour drive back was actually pleasant and shorter, I got back in 2 hours 45 minutes.
Reflecting on the race the day after, I feel like I am ready for Rocky Racoon 100 miles in February.  But I am still a bit scared of Bandera 100k which is in January, before RR100.