"No whiners, wimps, or wusses. A trail of rugged and brutal beauty where everything cuts, stings or bites." Tejas Trails, Bandera Trail Races website.
The above statement is accurate; I ran the 50k race last year and experienced that rugged and brutal terrain and beauty.  I swore I would never come back and do this race again.  Here I am this year, this time I finished the 100km version.
Roughly a week after the race, I finally sat down and wrote my official long race report, before the memories of the run fade away.  Last Saturday January 8th, I ran the Bandera 100km trail race, finishing it in 20 hours.  Located at the Hill Country State Natural Area, this course has about 7k feet of total elevation gain, with multiple short but steep hills, and full of rocks.  One runner described it as, "the mountain gods shook up the earth and all the rocks fell on this park."  Approximately 60% of the course are basically full of rocks of all sizes from loose rocks to boulders.  This is the attraction of this race; if one wants a challenging course, then this is the race to do.  While the rocky areas are unforgiving, runners are rewarded with some flat fields on the second half of one loop.  In reviewing the numbers of this race, 70% of participants achieve the Western States qualifying time of finishing in 17 hours.
By The Numbers:
| | |
| --- | --- |
| Registered | 393 |
| Finished | 310 |
| WS qualifier finishers (17 hrs) | 216 |
| Male finishers | 241 |
| Female finishers | 69 |
| F 40-49 | 29 |
Preparations for the race:
I was tired on the day of the race.  I didn't get enough sleep the night before.  We stayed at Tapatio Springs Resort – nice place, a golf resort – and there were 4 of us in the room.  Before everyone got to the hotel, I was able to prepare my race pack.  I wanted / needed my friends to be with me, as I was very stressed coming into this race.  I woke up at 4:45 AM, aiming for a 5:30 AM departure, but with 4 people and one bathroom, that was nearly impossible.  It was all good in the end, we got to the start line at 7-ish AM, and was able to start our race at around 7:30 AM.  Tejas Trails puts up a great race, especially during this pandemic, they had a rolling start time.  The Pros started at 6:30 AM, then the rest starts between 7 AM and 9 AM.
Learning #1:  I may need to have my own room the night before a super long race (like 100 miles), to get enough rest.  Or start getting good long sleep on the days before the race to be well rested.
The race:
I have done this route before, raced the 50k last year in inclement weather.  I had a strategy for running it this year:  fast-hike climbing up hills, be careful on rocky descents, and run the flats.  It worked well for me.  For the first loop, I tried my best to keep up with my friends , Jeff and Kathleen; Jeff did the 100km as well, and Kathleen did 50k.  On the rocky descents, I got left behind, but then I caught up when it was uphill and flat.  I met a few people along the route – this is the beauty of racing, one gets to meet a variety of runners with their own goals, challenges, and purpose.  I met a couple (I think they are) from the east coast, I leap-frogged with them because they passed me on downhills, then I catch up to them on hills – story of my trail running life.  Learning #2:  I really need to be more confident on descents.  Or at least get slightly faster going downhill.
I had a heavy pack which I was carrying the whole time.  My hydration vest had everything I needed, because I was not quite sure when I would reach each aid station, nor did I do any drop bags except for Nachos aid station, which then I asked my friend to take back my bag with her when her shift was over.  So I carried everything with me, which then made my pack 10 lbs heavy.  It was fine.  I just pretended I was carrying a light ruck sack, then it felt better.  I had in my pack: 1L hydration liquid, reusable cup, a few spring energy, ginger candy, dried fruits and nuts, picky bars, BASE pills and salt, Advil pills, gloves, extra buff, few wet wipes, antibacterial, lip balm, SunBum sunblock glide, Kogalla light and its battery pack, both attached to flipbelt, extra battery of the Kogalla, extra headlamp… I cannot remember what else I had, but I'm sure there were more.
Learning #3:  Try to leverage the drop bags, and put stuff in there that I can pick up when I get to those aid stations, so I don't have too much weight on my shoulders while running.  I may have gotten a little tired earlier on with carrying this heavy load on my back.
The only thing about that Learning #3, is that I need to carefully plan my pace and create the pace chart, with cushion on timing, so that if I drop my headlamp I can get to it before dark.
Nutrition during this race went well.  I ate my spring energy packets, and aid station food: PB&J, chips, crackers, pickle, Tailwind liquid nutrition.  In addition, I had my BASE performance pills (Recovery activator and BASE red), which I took every 4 hours after eating something.  Base Red has beet root powder in it, which increases betalain that helps the body with endurance and recovery.
I got ahead of Jeff when the hills started.  I wanted to do my best on the first loop, banking time, because I knew I may be walking a LOT at night, based on my past experience running 100 milers and 100km.  Originally we (Jeff, Kathleen, and I) agreed to waiting for each other at the aid stations.  In the beginning I was only a few seconds behind them reaching the aid stations.  When I got the Nachos aid station, I saw our Trail Sisters volunteering at the aid station.  It was wonderful seeing familiar faces, and Griselda, who was the captain for TS aid station, was there helping out runners and taking pictures.  Kathleen got there first, then I arrived shortly after.  After waiting for a few minutes, I asked Kathleen if it is okay that I go ahead, since Jeff was not yet there.  So I did.  I was on my own, but not really running alone because there were still quite a few runners along the way.
Many people passed me, then sometimes I would pass them again later on the course.   Most if not all were really nice and friendly, greeting and cheering each other along the way.  This is trail running and ultra-running.  While people are competitive, they also encourage and cheer on each other.  About 10 miles to finishing my first lap, I met another lady, Jung, who was doing the 50k.  I remembered earlier on, she passed me, and looked super strong running and passing me.  She was walking at this point, so I caught up to her and chatted for a bit.  She said she slipped on one of the rocks and rolled her ankle.  It was not sprained, but was painful, according to her.  We walked together, then I remembered I had Advil, so offered it to her.  She was grateful, and I was just happy I had some company again for a little bit.  We chatted as we hiked; when the Advil kicked in, we jogged/ ran some of the way.  Then she took off, she was strong again but I couldn't / wouldn't keep up since I had one more loop after this one.
About 1.5 miles to the start/finish area (at the lodge), there is this 'monster hill of rocks' that we had to climb, it was pretty steep.  On the other side of it, we had to descend on this steep and slippery section.  It was a short hill, so I just took my time.  One of the group of guys who passed me (I called them the rat pack, I also leap-frogged with them along the way), suggested to take the off-trail by the trees, there was sort of a trail and it was less steep.  I noted this advice for the second lap.  I got back to the start/finish area, it was a total of 8:45 for that first round of 50k.  I stopped for a long break, to replenish my food, get my light jacket, more buff (even if I forgot I had one in my pack), then contemplated on whether or not I bring the other battery pack for my Kogalla.  Stupid mistake, I left the second battery pack in my drop bag.  I ate, used the bathrooms, tried to wait for Jeff so that we can run together when it gets dark.  Twenty minutes after arriving here, I decided to start walking back to the course.  It was getting cold, and I was cooling down fast.  About a quarter mile when I got back on the course, Jeff was just coming back to the start/finish area.  I told him to catch up to me!
What makes this course a 'trail of rugged and brutal beauty where everything cuts, stings or bites?'  I will break it down for you.
Rugged and brutal beauty — The views at the top will rock your world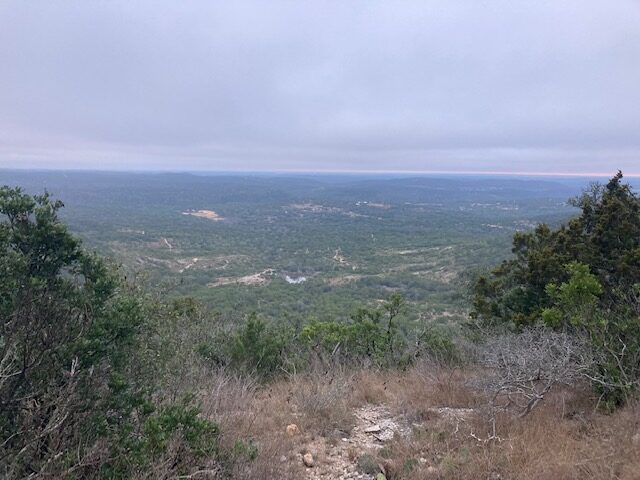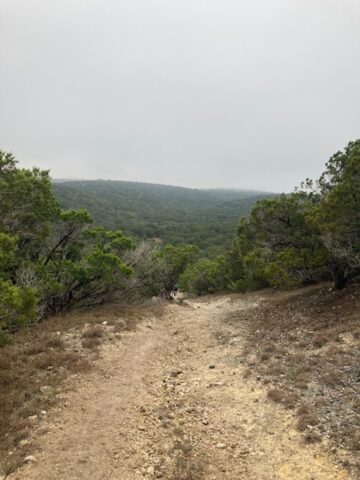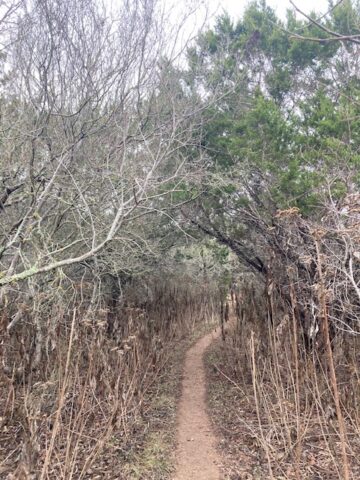 Everything cuts, stings, or bites — If you fall on those rocks, it will cut you.  As you run through the sotols, they sting and bite (evidenced by my thighs full of sotol cuts).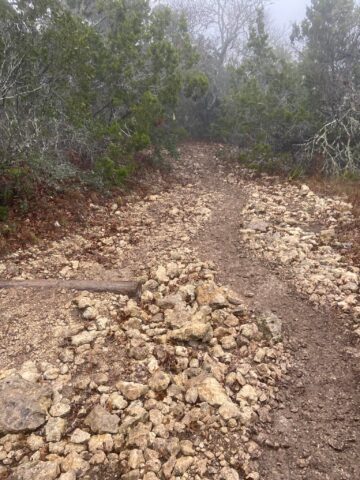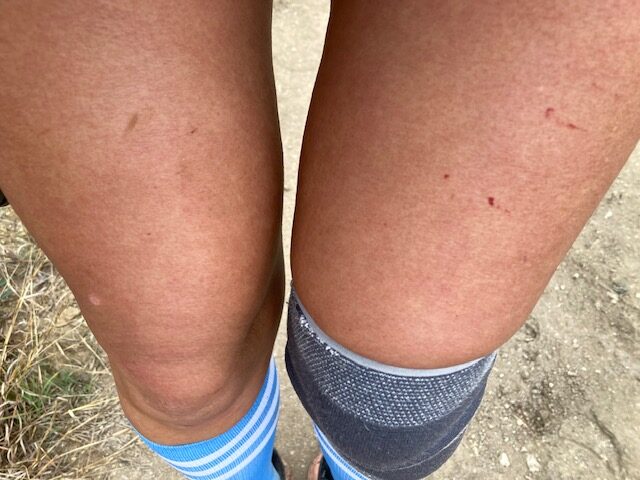 Running through the night:
I was worried about the night run.  I started the second loop while still daylight, so was trying to go as far as I can before it got dark.  It was clear by this time, I stopped a few times to take pictures of views, especially near where they had benches.  I found a lady to run with along the way, Elizabeth, we seemed to be about the same pace.  As the sun went down, we slowed down quite a bit.  We both had Kogalla lights, so after the Equestrian aid station, it was lights on.  We did well in the beginning, but as the night went on, we were both getting tired.  We stopped at aid stations for a long time – a LONG time!  In some cases it was because I had to use the bathroom (not quite stomach issues, but it was just time to go).  In most of the cases, especially when we stopped for 20 minutes, it was because Elizabeth forgot something at her drop bag, forgot to get more food, or wanted to change her shirt.  But, I wanted to stay with her through the night, so I waited.  I stayed with Elizabeth for 20 miles through the dark.  When we got to Chapas Aid Station at night, we had 10 miles to go.  When Elizabeth started doing her 'I forgot something' routine, I just said, I have to go, catch up to me.  So I ran out into the dark.
Learning #4: Don't spend too much time at the aid station – I definitely wasted so much time.  Maybe a few times is okay, but if I will be chasing cutoffs in future races, so I need to hustle at aid stations.  Two minutes max.
It was flat fields ahead, I was able to maintain maybe a 14 min pace.  I was definitely getting tired, but alert.  When I heard rustling of leaves, I ran faster – I didn't know what animal was out there.  4 miles to the finish, I started passing people again.  They were all walking, and I was doing my fast-walk and jog combination.  Then I got stopped at the 'monster hill of rocks.'  I was able to climb it, but when I got to the top, I had to think for a while about how to get down.  My legs were tired.  I was tired.  The couple whom I passed caught up, so I told them to go descend ahead.  I remembered the 'rat pack' guys saying, go right by the trees.  I couldn't see a trail there.   After what seemed like 30 minutes standing there at the top of the hill, I got on my butt and slid down the trail.  It was a short descent though rough.
Learning #5:  Going back to those downhills, get that confidence to descend steep technical hills.
After that monster hill, I was able to fast-walk and jog again, and did that routine all the way to the finish.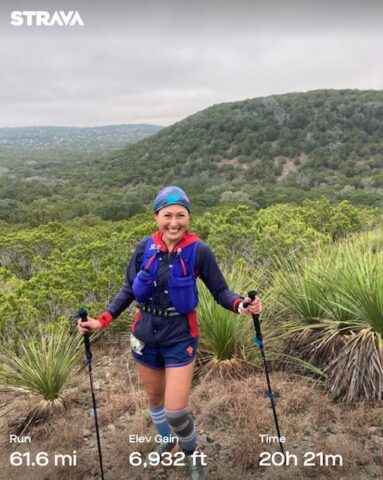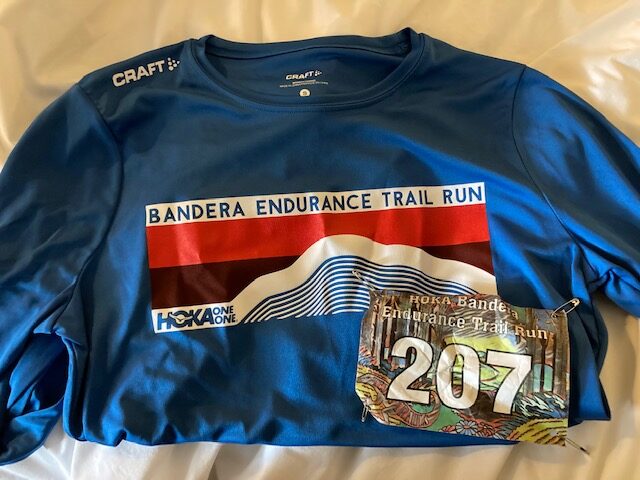 Crossing the finish line I saw Kathleen, and was so happy to see her and the end of this journey.  It took twenty hours and thirty five minutes completing 100km at this race.  Then, as I was expecting some sort of finisher reward, the volunteer said to me, "Congratulations! (something-something…) … however your finisher belt buckle is on a shipping container in California, but we will mail it to you once it gets here!"  I had my disappointed sad face on, but had no words.  It was okay afterwards, I was just tired and hungry.  Kathleen walked with me to get some food, then I changed out of my dirty running clothes, and took a nap in her car while we waited for Jeff to finish.
There were some rookie learnings for me during this race; but are still good reminders so I wrote it down here again.  It's hard if it's been a while since I have done ultras this distance.
This second time around doing this race, I still think it is super hard but do-able.  The terrain makes it difficult, but there are some flat areas that are runnable.  One cannot be a wimp nor whiner doing this race, as the route will beat you up, chew you, then spit you out.  I swore again after the race that I will not do this again – I even told someone on the course that I will not sign up again for this race after I got my buckle.  Technically I didn't get the buckle when I finished.  A week after the race, I also am thinking I could do this in less than 20 hours.  Will there be another re-do of Bandera 100km for me?  We just don't know…
Update Jan 28:  I finally received my buckle in the mail!  Even if only 100km (as opposed to 100 miles) I am so proud of this buckle!