I thought I was never going to do another "half-ironman" distance triathlon, after the undesirable experience at IM Santa Cruz 70.3 three years ago (2016).  I found myself back at training then racing another one of these half-ironman triathlons.  I completed my third 70.3 distance triathlon at Ironman Santa Rosa 70.3, last Saturday July 27th, with a total time of 7:36.  Although this is essentially the same location as my first two half-IM, the race names were different (Ironman Vineman 70.3, 2014; Barb's Race at Vineman, 2015).  I just love this area in the Sonoma wine country, and glad that I did my comeback triathlon here.
My younger sister, Raciel, also raced with me.  This is her 3rd half-Ironman.  We drove up to the Santa Rosa area, the Friday before the race, picked up our race packets, practiced swimming at the lake, and drove parts of the bike course – for my benefit.  The bike course was giving me the worst anxiety ever, with all the descents that seem like forever, but really, they were fewer and shorter than what my mind was telling me.  Thank God for my patient sisters, who had to endure my anxiety attacks.  I felt much better after driving parts of the bike course.
On race day, I was calmer than I thought I would be.  I was excited at the swim, meeting other new people who were standing next to me.  This was my first time participating in a rolling start (i.e., you self-seed by standing near the sign with your approx. finish swim time, so people enter the water with other racers who are about the same pace).  At the swim, I got kicked twice on the face, swam over a couple of people, and got grabbed by the foot and butt, I don't know how many times.  I was really with swimmers of my same pace because I always with the pack.
Out of the swim, I ran up the short hill as I pull down my wetsuit to my waist.  There were wetsuit strippers at the top who helped me get out of my suit.  Then onto T1, changing into bike shoes, sitting on the chair, chatting up the other ladies also changing around me.  Off to the bike course, getting out of Lake Sonoma, there were bumps, rolling hills, then a 2 mile steep, fast, winding descent that I was on my brakes to the far right to get out of people's way.  It was definitely very fast.  I was scared; but praying and feathering my brakes as people zoom by past me.  I stopped at every aid station, plus one other time before the hill at Chalk Hill Road, as I was already feeling some cramping on my quads and had to stretch it out.  Going up the hill at Chalk Hill Rd, I was passing other cyclists but also letting them know that they will be passing me after we get to the top. Then the rest of the course had a mix of rough roads, some potholes, some smooth road, and a whole lot of beautiful scenery around vineyards, mountains, and clear skies.
Arriving at T2 in Santa Rosa, I was so relieved that the bike portion is done, then I can start my run.  My quads were hurting by this time.  I ignored the pain as I walked through the long transition.  I heard someone cheering me, I saw my coach, Liza, so I ran, still with my bike shoes on, to get to my run gear on the other side of transition.  I changed into running shoes, ate a little, then off I went to the run course.  By this time it was high noon, the sun beating down on me, and felt like 95 degrees Fahrenheit.  I pushed through the run, trying to maintain a 10:30-11 minute pace, (maybe 12 min pace but in my mind I was sprinting), even with cramping quads.  Then we entered a shady trail area – a big smile on my face appeared and I was at home; it felt like I was doing a long trail run, at mile 48 of at 100km race, with all my trail running friends running or walking with me.  Except instead of wearing trucker hats, having long beards, or wearing Hokas or Altras, they were all wearing spandex.  I stopped at every aid station to hydrate and eat.  The volunteers were very helpful and friendly.  One of the stops had volunteers from Girls on the Run and I chatted with one of the ladies, I've volunteered in the past with GOTR as a mentor to young girls, getting them through running their first 5k.  There were many other volunteer groups who helped and encouraged us, giving us with ice to keep us cool.  My quads were cramping the whole time I was running.  Even with thrashed quads, I still felt like I was home free while running, but still had to focus on getting to the finish line.
As we got closer to downtown Santa Rosa, there were barely any crowd, but few of my people were still there.  Some of my Fil-Am tri peeps cheered me on near the finish, I had no reactions but I hope they understood, I really appreciated their support.  Then near the finish, my older sis was cheering me on as she saw me from afar, "Go Minel!" she screamed, other Fil-Am tri peeps, with my friend Bernadette, heard it and came back to the finish (I saw this from my sister's video) to cheer me on, take a video, and watch me cross that finish line.
Relief.  That is what I felt upon crossing the line.  Another one in the books.
Photos by sis, Annelle.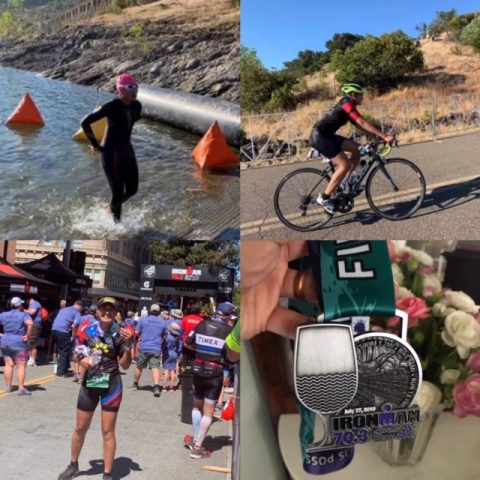 (too cheap to buy the finisherpix…)