It was quite an experience training for and participating in an Ironman race.  I never thought I would sign up for one, but last Sunday, November 20th, 2022, I attempted my first full Ironman race (2.4-mile swim, 112-mile bike, 26.2-mile run).  I had a lot of anxiety before the race but was fine when I finally got into the water for the swim.  Toward the end of the swim, I was freezing but just kept moving.  On the bike portion, there was a headwind getting out especially on Beeline highway, including the few long uphill climbs.  The tailwind on the return and downhill was fun, and I took advantage of the speed since I was very slow going out.  After 2 laps on this course, I DNF when I missed the cutoff for the 3rd lap, so I only completed 2.4 miles of swimming and 75 miles on the bike.  While I was disappointed, I didn't get to run on that day, I know what I need to work on to be able to meet the bike cutoffs the next time.
On this Thanksgiving Day, I reflect on my race day, and life in general, and am thankful for being alive and healthy, for having a good job that feeds my family and pays for my lifestyle, and for all the blessings my family and I have received.  I must write this down now before I start being busy again, and plus we are waiting for Thanksgiving dinner…  Below is the long story of this short day (about 8 hours total) and the preparations to get to this day.
Background
Since I started doing triathlons, I always said I would never do a full Ironman distance, the half distances were enough for me.  To date, I have completed four half-distances (Vineman 2014, Barb's Race 2015, Santa Rosa 2019, and Kerrville 2022).  Why did I say I would never do a full distance? Because I am not a cyclist and I have been hiding my flaw: I don't have good bike skills and I cannot take my hands off the handlebars.  I death-grip the handlebars!  Because of that, I cannot eat or drink without stopping.  I have carried this fear over the years. Despite this, I still ride my bike.  I enjoy riding while I am on the bike.  But when I need to stop and eat, then that throws me off and it takes me a few seconds before I can get back on the bike.  Regardless of my sub-par bike skills, I thought I can get through the bike portion of an IRONMAN race; I just need to ride faster to give myself time to stop and eat and drink.
I signed up for a full IRONMAN – IRONMAN Arizona (IMAZ) – because I needed to get over all my fears of riding: downhill, not being able to eat/drink while riding/moving, the turns and u-turns… I thought I had time to get over those fears and gain confidence, but I didn't.  I was busy with work while training.  That's another story for another time, balancing work and my hobbies.  So, why did I really sign up?  I wanted to do something difficult, something out of my comfort zone, to continue to grow, thrive, and be a better athlete, and a better person.  And inspire my siblings to also live healthier lives.  That is why.  Simple.  I don't have any other interesting transformational stories – like, needing to lose weight (I've been underweight all my life, I was so happy hitting over 100 lbs. at age 30), or being sick (luckily, I've been spared of any terminal diseases thus far), or having any other life-changing story.  I'm not undermining those experiences, they are very inspiring, I read Mike Reilly's book and it is full of those types of stories.  I have no story.  I'm simply an ordinary girl, attempting to do extraordinary things.
I have already considered doing IMAZ once in the past, in 2015, after doing a couple of 70.3.  It was short-lived.  Read here for more info.  At that time, I said, "I would rather run 100 miles than do this triathlon."  And I did; I ran two 100-mile trail runs. So I had to do this.
At the Turkey Trot in Round Rock, in November 2021, my new triathlon team, Team RadioActive, started talking about IMAZ.  I was convinced by my team to sign up for IMAZ.  They said it will sell out fast.  They said this is Mike Reilly's last event in North America where he announces the finishers, so one would need to participate in this event.  As soon as I got home, when that race sign-up opened, I signed up for IMAZ.  It was a case of classic FOMO (fear of missing out).
Training
I sought help from my previous coach, LizaCoaching (Coach Liza Rachetto), to help me attempt my first full IRONMAN race.  She gave me my training schedule which included doing one 70.3, and my 2 attempts to a 100-mile ride – both of which I failed to do all 100 bike miles.  My busy work schedule made it difficult for me to meet the weekly training goals and mileage.  My only 100+ mile training ride was a split between a 70-mile ride on the road, then finished on the trainer for 35 miles.  One training weekend, I was ready to ride 100 miles, but a friend who joined me got bit by a dog so I had to take her back to the cars.  I could have continued, but I was done by then.  The training was tough.  It felt harder training for a full IRONMAN (IM) than a 100-mile trail race, but my team helped me along the way and I found my girl gang to train with, check in on each other, and do loops on our bike training rides.  There are so many logistics involved in training for a triathlon, especially here in TX, I must plan my rides as it is dangerous (or at least I feel it is), to ride on the roads of main cities in TX.
Swimming was also tough.  There are not too many options for open-water swims.  Our open-water swim practices have been without a wetsuit in warm waters through summer.  It was only a few weeks before IMAZ that I started practicing in open water with a wetsuit when it finally got colder.  Running was not a problem for me, I was relying on experience.  I only did up to a 15-mile training run, but I knew I could finish the run if I get to it during the race.
Race weekend
I arrived on the Friday before the race (race day was Sunday), on an early morning flight, and arrived Friday afternoon in the IM village.  My bike was already there.  I used Tribike Transport, a company that transported my bike to the race location.  I did the required activities – athlete check-in, athlete briefing, bike check-in, bags check-in, and the practice swim the day before the race.  I also met up with teammates.
My older sister came out to help me and be my crew.  I loved that I was also able to spend time with my sister since we haven't seen each other in person in a year (she lives in GA).  I didn't go to the team dinner, but my sis and I met up with an old friend, Sabrina, who paced me at my first attempt at a 100-mile trail run race at Javelina Jundred.  She just finished her first 100-miler at Javelina, inspired by me when she paced me in 2019.  While I didn't finish that race, we remained friends and followed each other's progress in running.
I was a mess before the race.  I was crying at the hotel.  My fear was the bike.  I need to stop and get off the bike to eat, and I may not meet the cutoff times due to my stops.  I never learned to eat while riding.  All these years of triathlon participation, I thought I could get away with it.  And I need to eat, so I need to stop.  Just the thought of seeing the big picture, the end in mind crossing that finish line and having Mike Reilly call out my name and as an IRONMAN – was all overwhelming.  I had to focus on the milestones – the swim, then the bike, then the run – before getting to the finish.
The race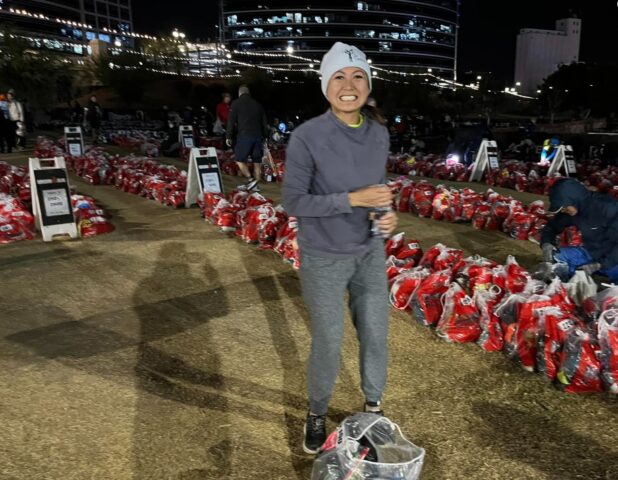 The night before the race, I had this powdered drink called SLEEP (I bought it on the Feed), which aids in one's sleep the night before a big event, and helps with energy the next day.  It helped, but I had to wake up a few times throughout the night to use the bathroom.  Even though I had interrupted sleep, I still felt well-rested.
I woke up early so I can get to transition and put my nutrition in my bags.  All worked well.  For breakfast, had the Starbucks Iced coffee (bottle), peanut butter on an English muffin (which I didn't finish), and a banana.  I wasn't too nervous by race morning, but I also couldn't eat much of the peanut butter English muffin.  I was still calm.  In transition, I added my nutrition in my run bag, then my bike bag, then went to my bike to pump my tires.  Then started eating the rest of breakfast, which include the Spring Energy Wolfpack (with 350kcal), and then my BASE Red and BASE Active Recovery supplement.
The swim.  My sister and I walked towards the swim start, she was taking videos and pictures.  She was documenting my first IM experience.  She believed in me.  She believed I would finish this race more than she believed my younger sister was going to finish her own race (she finished her first IM in CA a month earlier).   In the swim queue, I was casually chatting with people, getting them excited, singing and dancing to the music, it was playing, "what doesn't kill you makes you stronger!"  Then we were in the water.  I swam fast in the beginning, to get out of the way,  I may have swam wide.  The water was cold, but I just kept moving and moving faster.  On the other side, when we turned the buoy, it felt a lot choppy in the water.  Every time I looked up to sight, I saw a different sight.  I was looking for the building and bridge but saw the sun and other swimmers.  Everybody was swimming everywhere.  I felt like being tossed around by the waves.  What was making those waves?  I thought we were in a man-made lake/ river whatever you call this body of water.  I continued on, ignoring the cold.  The color of the buoys changed from yellow to orange.  I should have read the Athlete Guide in detail, it must mean something, maybe it is the halfway point.  The route took us to swim out back and pass the swim finish, then return towards the swim finish.  I swallowed water more than once, maybe 3 times.  I stopped to cough it out and breathe.  The return to the swim was probably around 1000 yards or so.  It got choppier or at least it felt that way.  It got colder, or at least my hands and feet felt frozen.  I had claws for fingers and couldn't move them.  Again, being tossed around by the water, I found myself close to the wall but kept moving/swimming.  If I stopped, I would freeze, I was already freezing in the water.  Suddenly there were kayaks, they were yelling something, I stopped and listened, we were supposed to swim to the red buoy.  I was far from it, maybe 200 yards away, so had to swim diagonally to turn at the red buoy and then swim to the swim finish.  Disoriented for a bit, I stood up, water was to my chest, but I just kept moving towards the ramp out.  I ran to the wetsuit strippers and had them take off my wetsuit.  It probably wasn't the best idea, I was freezing.  I ran, barefoot, not feeling anything in my feet, carrying my wetsuit on my right arm, I kept running to be warm.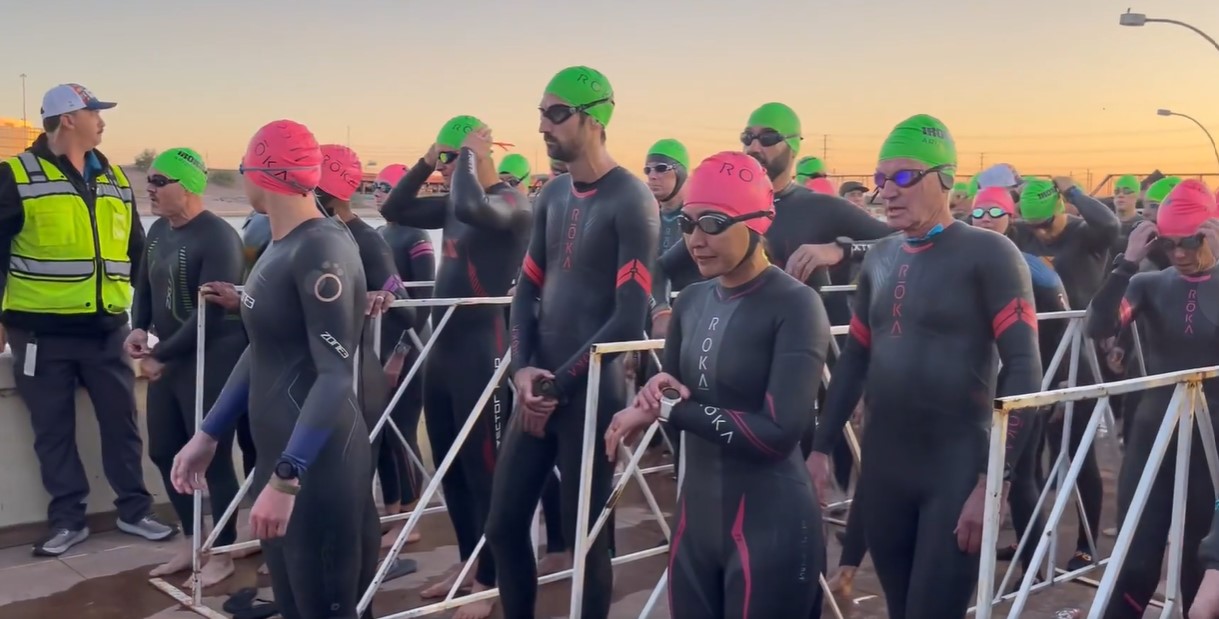 T1.  I was running to transition to the blue bike bags, yelling my number so the volunteers can find it and get it ready.  "2100!  2100!  May I have my bag, please? For 2100!"  A boy was walking towards me as I yell my number and he gave me my bag.  I ran to the women's changing tent.  It was warm, and I was finally thawing.  Well, slowly thawing.  I had to change my jersey, but I couldn't get the zipper together.  I tried to put on my compression socks, but my hands were still frozen, and I couldn't move my fingers.  There were a lot of older ladies in the tent, freezing, shivering.  I asked for help.  As I was waiting for someone to help me, I wrapped a Tyvek blanket on the lady next to me, who was shivering from the swim.  She smiled and thanked me.  A volunteer finally got to me, and I asked for help to get dressed.  I forgot that I put all my bars and spring energy on my bike bento box.  What I had in my bike bag was all my Tailwind powder drink.  So my plan to eat while getting dressed failed.  When I got dressed, I used the porta-potty, ran to my bike to eat while I slowly walked out of transition.
The bike.  There was a headwind heading out of town (~7 miles), then on Beeline Highway (~12 miles).  I was only going 9 mph heading out; I was trying to keep it at the double-digit speed of at least 10 mph, but it was difficult.  I was still recovering from that freezing swim, so was trying to warm up.  I stopped at the Special Needs area not to get my bag, but I ate a Picky bar and drank water.  We had a headwind while climbing.  As I approached the top, I saw the tight u-turn, I didn't think I would make it, so I went past the cones and stopped.  Since I was there, I used the porta-potty (but someone was still inside so I waited).  I was eating while waiting, then went to it, then mixed one bottle of Tailwind powder since I was already stopped.  Their medical tent at the top had water bottles.  While I was mixing my drink I saw my friend Erin B ride by, then Marlo.   On the return, we had a tailwind so I took advantage of this and started spinning fast, downhill, and without hitting my brakes.  It was fun!  I passed Marlo, then I passed Erin.  I started singing in my head then out loud, "Jesus take the wheel! Take it from my hands…. save me from this road I'm on!"  The road was not the smoothest ride, but I had to make up time from my slow climb.  Praying by singing helped me with that confidence going downhill on a rough road.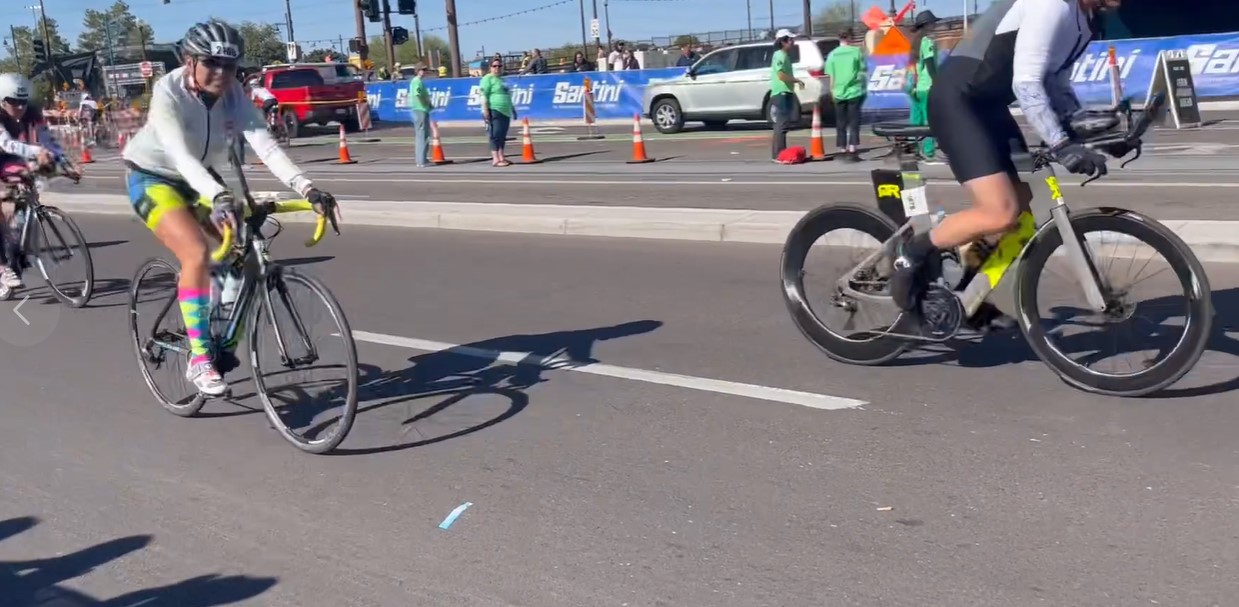 My nutrition during the bike consisted of my Tailwind drink, a Spring Energy (220kcal) drink, Picky bars, and Spring Energy gels (they're not quite gels but thicker and less sweet, made out of basmati rice, it works for me.  I even had the WolfPack as well).
The bee sting.  When I was almost back in town towards the end of the highway, I felt something piercing the top of my left hand; then I saw the bee.  I screamed at first, but I couldn't do anything.  I never learned to take my hands off the handlebars, I had a death grip on the bike, so I just watched the bee sting me as I rode into town.  I was wearing gloves, so I think the bee probably got stuck in my glove for a while.  When we were finally in town, and nobody was around me, I tried to kill the bee by crushing it between my hand and the top of the shifter cover.  My front tire moved left-right-left as I tried to crush the bee.  I must have killed it because it finally fell off my glove.
I was finally at the bottom, saw my sis, made the u-turn (it was wider than the top u-turn), then off to lap 2, where my sis yelled that I had only 2.5 hrs till the bike cut-off for lap 3.  I knew that was cutting it close.  The second lap headed out was no different than the first lap, there was still a headwind.  I stopped twice, at the first aid station and at the Shell gas station where there was also an aid station.  Then I stopped again at the top, I couldn't make that u-turn.  While stopped, I mixed my drinks and ate.  At the descent on the Beeline highway, I kept looking at my watch.  Erin passed me, I figured she gained back her strength as she is a strong cyclist.  Then Marlo caught up to me.  We were leap-frogging until we got back into town.  I kept her in my sight, but I knew we were cutting it close.  I thought she might make the final cutoff, and I won't make it.  But I kept spinning, thinking I will accept whatever happens at that u-turn at the bottom.  Sure enough, I missed the cutoff by 3 minutes; 2 volunteers were blocking the u-turn, and we were all directed back to the bike dismount.  I saw my friend, Marlo, she made the u-turn but was stopped; she was arguing with the race officials.  As I rolled into the bike dismount area, I felt defeated. But I knew this might happen since I kept stopping.  I'm an endurance athlete, and I can finish this race, this distance, but there is a time cut-off, so I also need speed, just a little bit, to make it.  They took my chip and my bike, and that was the end of my race.  Which is fair.  I had total control of this day, but I stopped too many times.  In reviewing my Garmin, I stopped a total of 17 minutes while on this 75-mile bike ride.
After my race (which ended early in 8 hours), my sis and I walked back to the hotel so I can shower, then come back to cheer on my teammates later.  We had leftovers so I also ate back at the hotel – Pad Thai and some Japanese crackers.  After taking a shower, I passed out on the bed.  We woke up later that early evening, walked back to the IM Village, watched some finishers, took my transition stuff out, and dropped off my bike back to Tribike Transport.  We had dinner, walked back to the hotel, and I started binge-watching on Netflix to pass time, with the intention to go back around 11 pm so I can watch the rest of my teammates finish.  I passed out again while watching Netflix.
The day after, I felt fine, with no soreness, no aching, no ankle or plantar fasciitis pain (after all, I didn't run).  My sis and I hiked up the mountain right outside our hotel, I've been wanting to climb it since we got there.  I spent that Monday with my sister, we went wine tasting at tasting rooms in Scottsdale, had dim sum in Mesa, and just wandered around until her flight that evening.  Then I was off to bed early that night, for an early flight home the next day.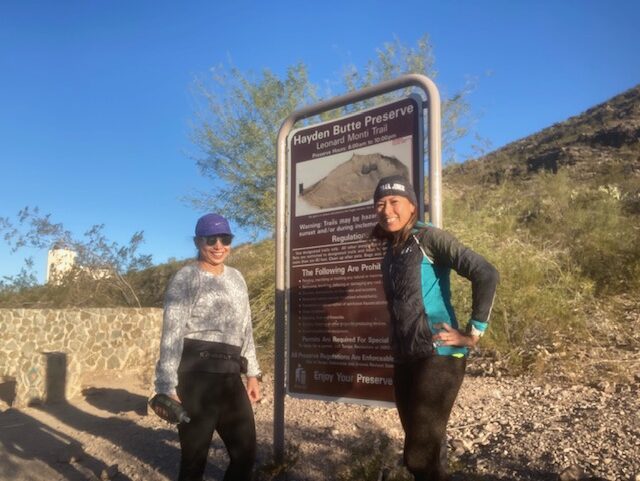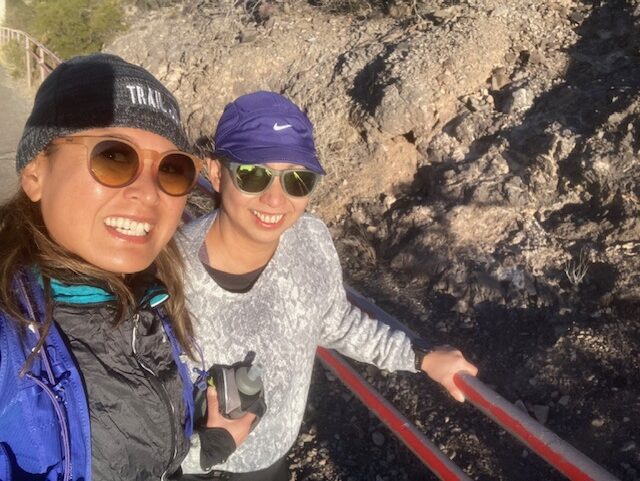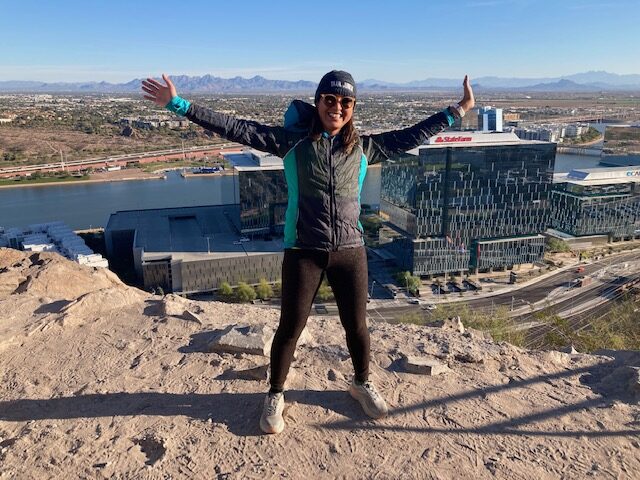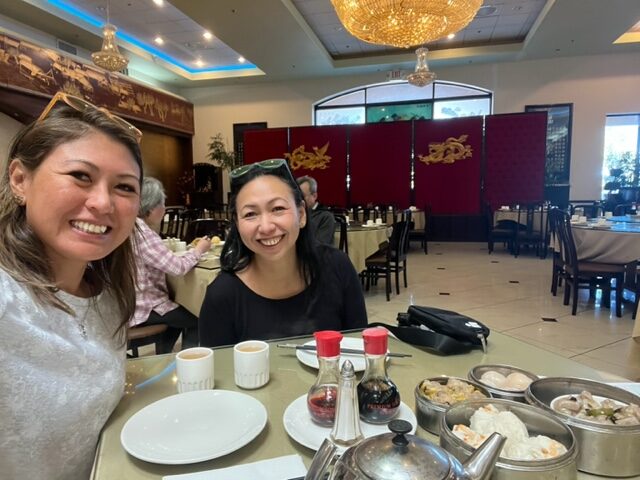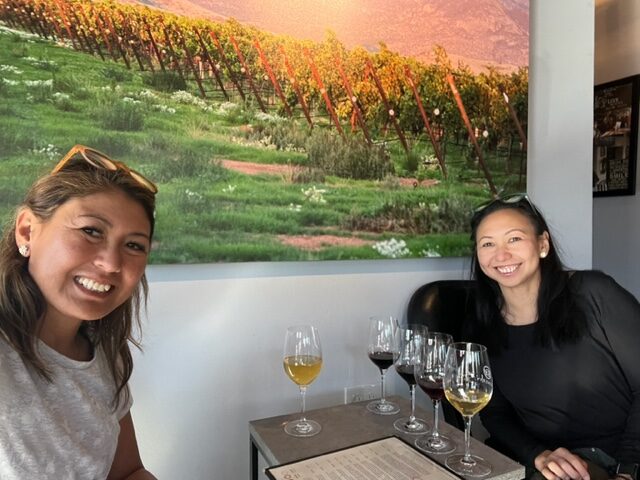 On this Thanksgiving Day, (and every day), I am thankful for being able to do activities such as this, and for remaining healthy.  What's next?  We shall see.  There is some unfinished business with this IRONMAN stuff.
Learnings:
Take the events one discipline at a time. Don't get too caught up in the big picture, be able to zoom in and zoom out.  Just like at work.
During the race – put nutrition in the blue bag (bike bag) so I can eat while getting dressed in transition (instead of just in the bike bento box, bikes are separate from bags)
Minimize stops on the bike. With that, I need to learn how to eat and drink while riding, and take a bottle from a volunteer while rolling.
Speed! I need to get faster to give me more time for the stops, should I need to stop again.
Strength! I need more strength training so that I can get through headwinds.
No more "firsts" in Arizona; my first 100-mile trail run attempt, Javelina Jundred, was also in AZ, and I DNF, very close to the finish.  Maybe TX is my lucky state, after all, we are living here today.