On Sunday Sept 25th, I completed my 4th half-Ironman distance at the Kerrville Triathlon Festival.  It has been 3 years since the last time I did this distance, but I am training this year for longer triathlons, hence the need to practice in races like this.  Kerrville is not an IRONMAN branded race, which I like because it is low key but very organized just like an IRONMAN race.  It was a hot day on this race day, so I was just happy to finish regardless of time.
Kerrville is near TX wine country.  I think the themes of all my 70.3 races thus far is wine, as my first three 70.3 finishes were in in wine countries:  Vineman, Barb's Race, Santa Rosa – all in CA wine country.  Side note, there was one 70.3 race that I DNF because someone crashed into me on the bike, and I just didn't want to get back on the road, because my bike shifters seemed off, chains were off, and there seemed to be a crack on the rear fork.  That was IM Santa Cruz, in a super cold-water swim.
The day before our race, it was the sprint and quarter distance, and our team volunteered at the first aid station, near the finish line.  It was fun volunteering, however as it was a hot day, and we were on our feet, I got very tired being under the hot sun standing and distributing water/Nuun drink to the racers.   That night we had our team carbo-loading with 50+ of racers and their families/ friends.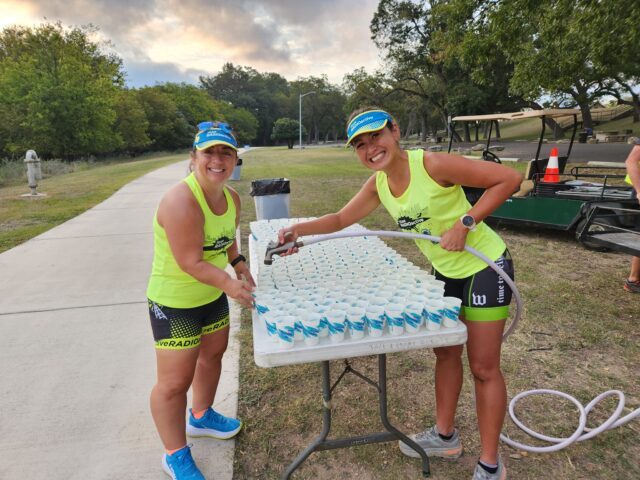 Race morning: the swim.  We stayed at the hotel right by the transition and swim start – which was very convenient.  The swim was wetsuit-legal but very, very few wore a wetsuit, maybe 2 or 3 people.  The water was warm.  I swam with no wetsuit, but wore my Roka SIM shorts.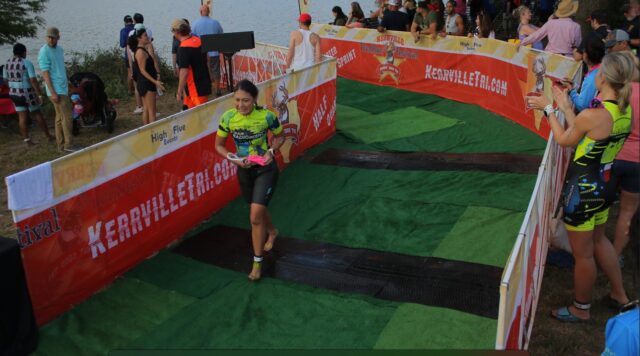 The bike.  My goal was to go as fast as I can, so I have time to stop.  I stopped 4 times, the longest one was when I had to use the porto-potty, and at their tent they offered for me to sit down.  I saw Erin, my friend, ride by the aid station, I cheered her, then figured it is time to go.  There were some climbs on this bike route, but not too bad; there was no headwind so I was happy.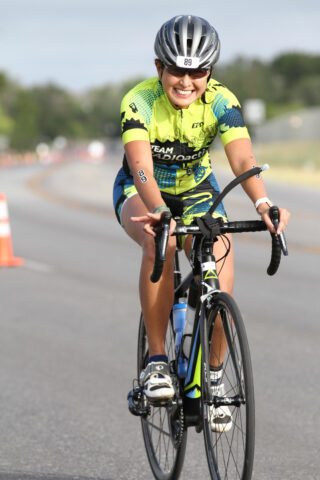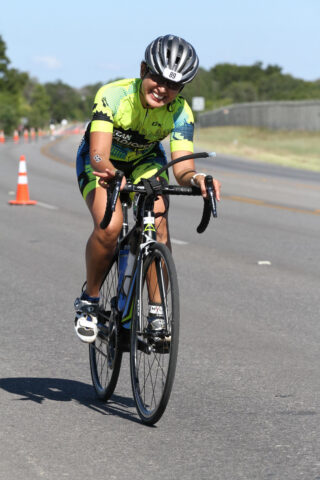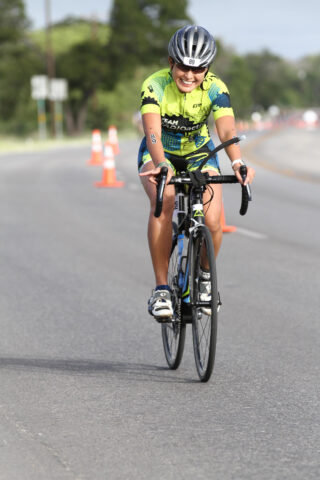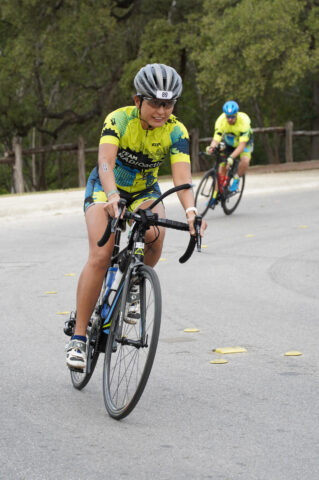 The run.  By the time I started running, it was hot.  Very hot.  I couldn't run when I first got out of transition.  I was cramping.  It was a mild cramp, so I walked it off, stopped to stretch it out, then walked again.  When I was feeling better, I slowly ran.  The cramp came back.  At the aid stations, which were 1 mile apart. I had some bananas.  The cramp went away for a little bit, then came back.  The run route was 2 loops, where you would pass the finish line, do 2 more miles, then come back for a second loop.  I continued with the slow run/jog, while the cramp travelled up and down my legs, one time the right side, then the left side.  On the last loop, as I got closer to the finish line, my left leg cramped up so bad, I couldn't put weight on it.  I stopped, stretched it out, walked it off, and continued onwards.  We had to pass the finish line for the final 2-mile loop, before heading back again, to finally finish.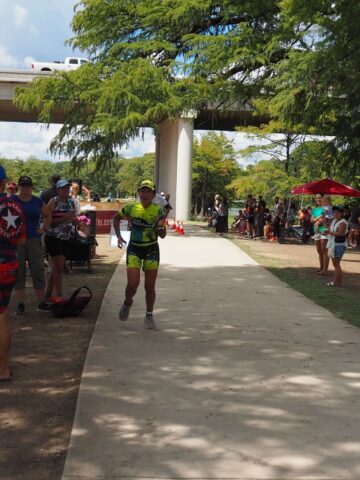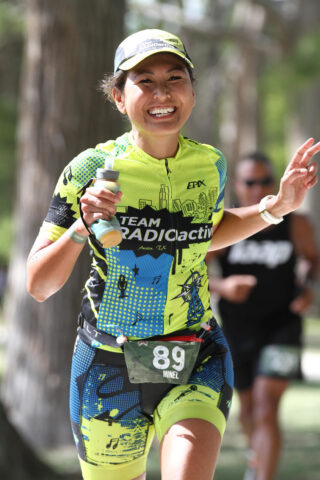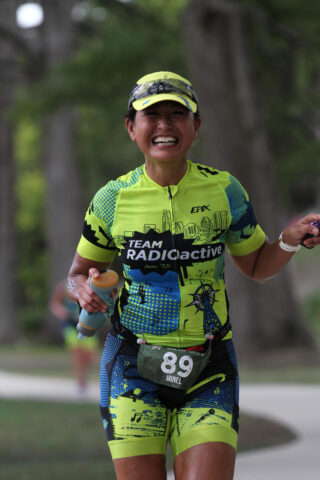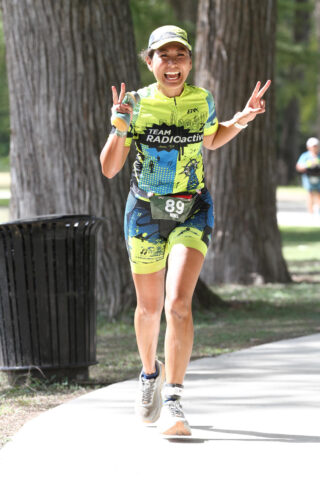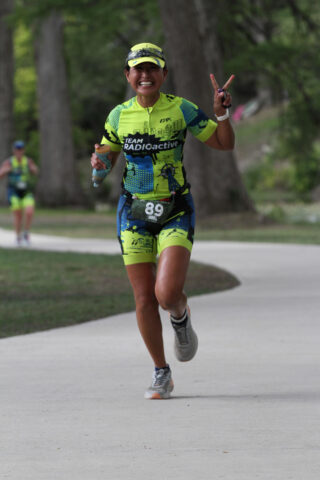 Running through the pain…
As I approached the finish line, finally for the finish, I could hear the cowbells, there were still some crowd cheering.  I saw the finish chute, started to sprint, then, felt the worst cramp ever.  I fell to the barricade, caught myself, but couldn't put weight on my left leg/ foot.  My left calf seized up.  The announcer already called my name, welcoming me to the finish line, but she paused, called some volunteers to help me, and called the next runner in.  I finally crossed the finish line with the help of volunteers.

That was the first time ever I had to require help to cross the finish.  Of all my ultra races, or marathon races, this was the first time.  I was led straight to the medical tent – also the first time ever that I had to go to a medical tent.  My left leg started to seize up again.  Candy, my teammate, came by, helped me out, calmed me down, and gave me some liquids.  All this time I was screaming in pain.  When I finally calmed down, after Candy calmed me down, I rested.  This is harder than a 100-mile trail run where I can at least enjoy and go slow. But I still do this triathlon thing. Next up is IMAZ. But first, some Century rides to practice.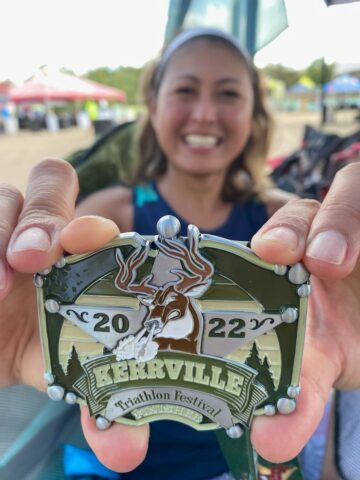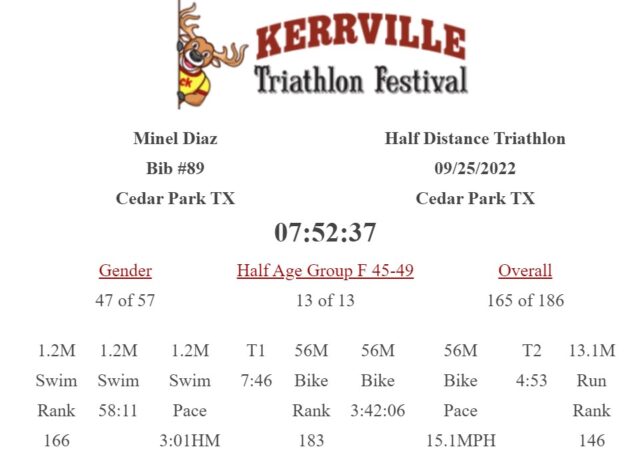 Learnings:
Need to be better prepared for hot weather racing, with some cramp-busting, cramp-preventing food. And no sprinting after a long cramping run.
I need to learn how to eat without stopping on the bike; and getting that water bottle while rolling. But this requires confidence, I need to build the confidence to get my hands off the handlebars and reduce the death grip.
Don't be complacent. Keep pushing.  Being complacent is making me slow down and accepting that I am slow.  I am not slow, I am an endurance athlete and I can go faster!